WHITETAIL DEER MOVEMENTS STUDY
MASON BAY STEWART ISLAND
This project began in the early 1990's when a couple of Southland Branch, New Zealand Deerstalkers Assn members caught a doe at Mason Bay using one of the deer traps built by Mr Tim TeAika who was the last leaseholder farmer on Stewart Island.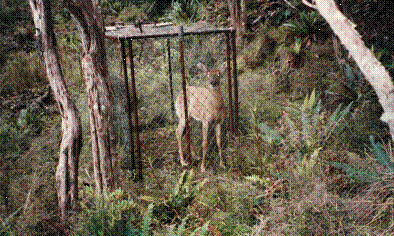 This doe was shot by another hunter five months later. She was only 3 - 400 metres from where she had been tagged.

With various writers claiming whitetail travel long distances we set about trying to establish if this was fact or fiction.

In 2000 with the help of helicopter pilot Steve Gamble four does were captured, three were released with radio collars and the fourth (#4) with just an eartag. Each animal captured and released has an individually coloured eartag. A number of other animals have been captured by trapping.

Radio tracking stations were established on Big SandHill and Island Hill. Radio signals were plotted by compass and the intersection of the two signals established the location of the animal.

Doe #3 lived for over twelve months in a small home range, probably less than a square kilometre, just east of Big SandPass is indicated in the yellow circle.
She was regularly tracked by her radio signals and although a many hunters used the old fenceline  which runs through her home range she was never reported as being sighted by hunters.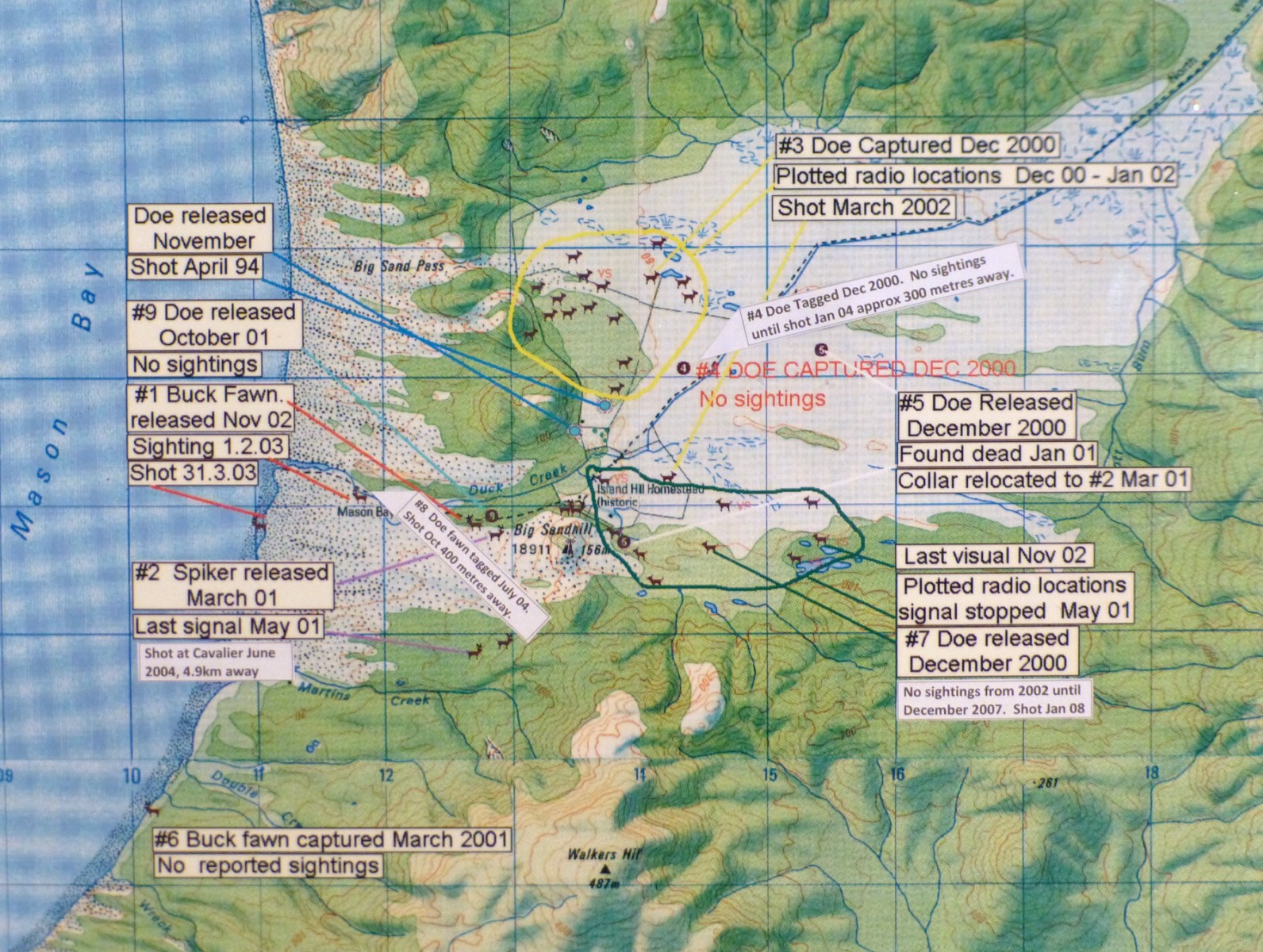 In March 2002 she was shot near the old airstrip. This was the only time we know she had moved out of her home territory.

Doe #7 was fitted with a radio collar. This stopped transmitting after about 5 months. This doe has been seen a number of times by hunters and trampers up until in November 2002 around the Mason Lakes area. She then disappeared until she was had a lucky escape from a bullet in December 2007 but was shot by a Halfmoon Bay  hunter in January 2008 still in the same area..

#5 died shortly after capture. The collar was recovered and fitted to a spiker (#2) in March 2001

Doe #4 was shot in Jan 2004 about 300 metres from her capture point. No sightings were reported in over three years she lived in this area.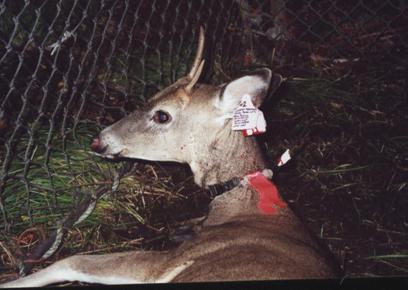 Buck #2  was tagged in April 2001 and was radio tracked on 4 occasions. Since May 2001 there were no signals or sightings until the buck was shot by a hunter in June 2004. When killed he was just north of Cavalier Creek about 4.9km. from his capture point. His antlers shown below are unimpressive for a buck that was at least 4 years old.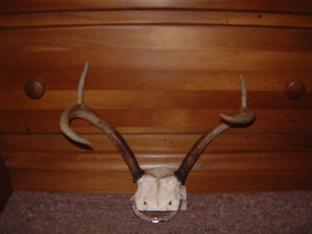 Also in March 2001 a buck fawn #6 was captured and released near Double Creek. No sightings of this animal have been reported.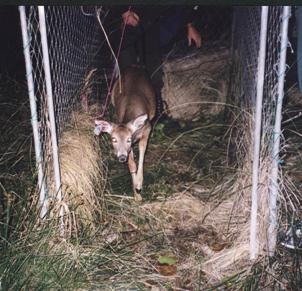 Doe # 9 was captured and tagged in September 2001. There have been no reported sightings of this deer.

In November 2002 another juvenile buck #1 was tagged and released in Duck Creek.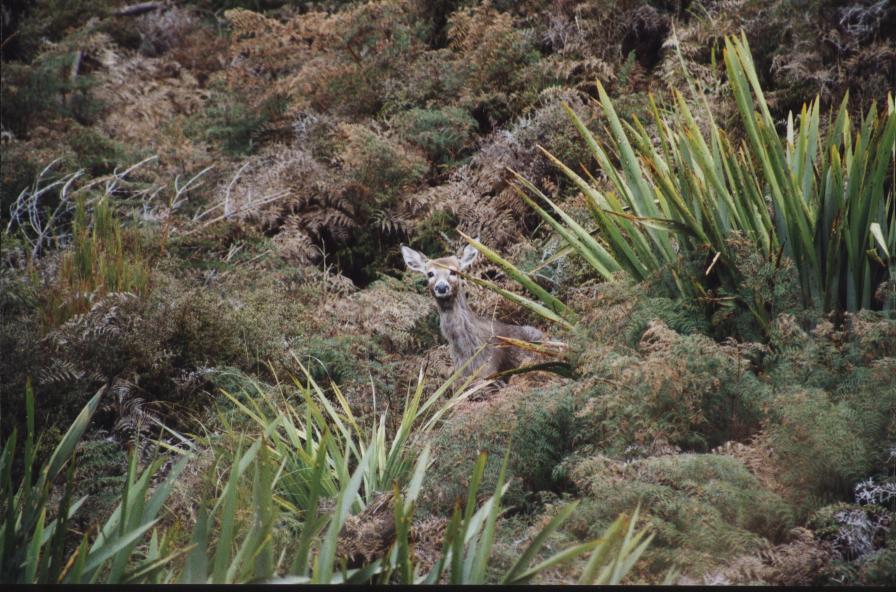 In January he was seen further down the creek and in March 03 was shot by a hunter on the beach about 400 metres to the south.

In June 2004 (#8) a doe fawn was captured. She was shot in October the same year about 400 metres from capture point.

Clearly the conclusive evidence is that Whitetail Deer, and particularly does, do not travel very far and seem to have a home range of less than a square km.
 
 CAT POISON TRIAL UPDATE September 2023
Whitetail Deer studies.
WHITETAIL DEER MOVEMENTS STUDY - MASON BAY STEWART ISLAND
.
AGING WHITETAIL DEER BY THEIR JAWBONES
 Ten yearly Summary of Hunter Reports
LINK TO SUBMIT A STEWART ISLAND HUNTER REPORT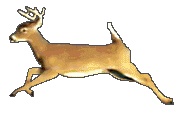 Predator free Stewart Island.   For information on the proposal to eradicate rats, possums, hedgehogs and cats from the Island see these two sites:-
 DOC STEWART ISLAND PREDATOR FREE SITE

PREDATOR FREE RAKIURA GROUP
Conservation Projects : Gorse & Rat control Mason Bay by members of Southland Branch Click HERE
---
DOC Hunting information Stewart Island.

http://www.doc.govt.nz/parks-and-recreation/hunting/what-to-hunt/deer/white-tail-deer/
For hunting block availablity:
Mana Charters
Stewart Island Flights
https://www.stewartislandflights.co.nz/hunting-trips

Real Journeys  (Stewart Island Ferry)
https://www.realjourneys.co.nz/en/experiences/ferry-services/stewart-island-ferry-services/
Real Journeys advise the following rules apply from October 2019
Carriage of Firearms Terms and Conditions on Stewart Island Ferry
Firearms are a sensitive item on any vessel. Naturally, you can't bring your firearms on board with your carry-on bags. You can carry your firearms as checked-in baggage, with some conditions:
  You must tell us you are intending to bring a firearm when you book your ticket and  again at check-in. Failure to do so may result in carriage being denied.        

  You must declare that all firearms have been rendered safe to transport, your New Zealand firearms licence is available, valid and current, and you will not consume alcohol while onboard our vessel. Click here for a declaration form   which is also available at check in.

  Firearms must be in a lockedhard-shell, named case. You may carry more than one firearm in your case. The name on the case must match the passenger's name on our manifest.        

   Any ammunition and  bolt must be carried separate from the firearm. Ammunition is limitedto amounts suitable for personal use.Carriage of commercial quantities of ammunition is not permitted on our vessels. 

  The company reserves the right to NOT carry firearms on a case by case basis. Examples include:

 
Passenger safety and comfort, available space and other quantity and segregation  limitations required by the NZTA regarding transportation of  Dangerous  Goods.

Occasionally we use other vessels to transport our customers.Some of these may not  be configured to carry firearms.
The skipper of the vessel has the sole discretion to approve or refuse carriage of firearms.
The company and staff are expressly  NOT responsible for any loss, damage or misuse  of the firearms, ammunition, related items or  any contingent lose.  
Firearms must be claimed immediately upon completion of  the journey. Note: Any unclaimed firearms or ammunition will be passed to New Zealand Police for safe custody.
 - 
Other Stewart Island Ferry issues for hunters - fuel, gas & freight:

From 1st June 2017 the following rules apply to the carriage of fuel and/or gas on Stewart Island Ferry.
Limits
•      4 x 20 litre certified fuel containers (80 litre maximum, petrol or diesel)
•      5 x 9 kg  gas bottles (50 kg maximum, flammable gas incl. LPG)
As per the Dangerous Goods Act, if any flammable gas is carried, the maximum fuel allowance is reduced to 50 litres.  Empty containers are treated the same as full containers, so all containers need to be booked.
1.      All fuel and gas must be pre-booked and pre-paid.  Price is $5 per full container.  Please book direct at the Bluff Visitor Terminal.
2.      All fuel must be accompanied by a ferry passenger. No fuel will be transported unaccompanied.
3.      There are no storage facilities at either Bluff of Oban for dangerous goods.

NO FUEL OR GAS IS TO BE CARRIED IN FREIGHT BINS.

Luggage Limits
Two bags per person, both will be stored in freight bins plus one small bag ie handbag size, 
which can be taken in the cabin.
Freight limits
Equivalent of two bags or five banana boxes.
Hunting and tramping parties.
The above limits apply to hunting and tramping groups. These limits include the carriage of fuel and inflammable gas. Hunting parties often require additional luggage and should be organised in advance.  Please contact Bluff Visitor Terminal to arrange.  Additional luggage/freight will be charged at $35 per bin or part thereof.   We encourage all groups reconfirm their bookings with Bluff Visitor Terminal prior to day of departure. 
All fuel etc needs to be booked in advance.  Please call to avoid disappointment.

However, on the positive side:-
Pete Ross Automotive at 14 Ayr Street,  Halfmoon Bay 03 2191 266 or This email address is being protected from spambots. You need JavaScript enabled to view it.   
(beside the Community Centre) has the following supplies:
Petrol, Diesel,LPG Gas Bottle hire & refills, coal,wood, kindling,Fuelite (White Spirits)
Fuel Containers,2-stroke Oils (General, Marine and Motorcycle)CRC and WD40, Car and Boat batteries
They hire: Gas rings, Tents. They are quite happy to meet hunters off the ferry and deliver down anything they may require, or liaise in with the charter operators.
---
Block Maps:
Click on the names below or areas of the map further down the page.
 Note: all maps contain sections of Open Hunting Zone and some maps may overlap certain blocks.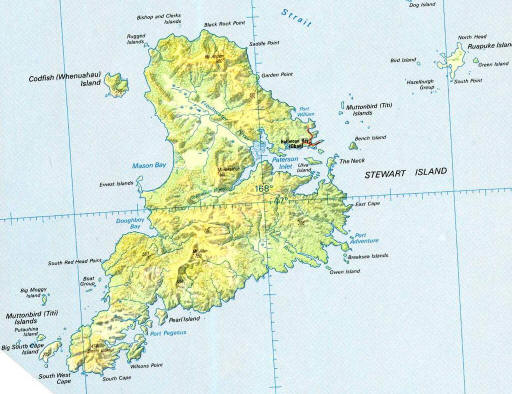 ---
Stewart Island Hunter Reports
 

1977

1987

1997

2007

2011

2012

2013

 

# PERMITS ISSUED

363

?

490

559

527

541

545

 
 
 
 
 
 
 
 
 
 
 
 
 

2.09

1.97

0.53

27

5

28

55

# RETURNED

 
 

108

162

121

104

82

 
 
 
 
 
 
 
 
 
 
 
 
 

1.79

1.84

0.48

3

2

25

52

# HUNTERS

958

     1092

440

626

484

382

312

 

ESTIMATED TOTAL # HUNTERS  

    958

     1092

1994

2157

2055

2279

2073

 
 
 
 
 
 
 
 

AVERAGE # HUNTERS PER PARTY

2.63

 

4.07

3.86

3.9

3.67

3.8

 
 
 
 
 
 
 
 

TOTAL DAYS HUNTED

 

5898

2532

3568

2973

2279

1912

 

AVERAGE DAYS HUNTED

 

5.4

7.75

5.7

6.16

5.96

6.12

 

ESTIMATED TOTAL DAYS HUNTED  

 
 

11270

11286

12660

11854

12686

 

AVERAGE LENGTH OF STAY

 
 

7.56

7.54

7.01

7.25

7.2

 

WHITETAIL SEEN

 
 

838

1135

1088

801

560

 

WHITETAIL SHOT

503

715

225

354

256

205

151

 

ESTIMATED WHITETAIL SHOT

 
 

1016

1108

1091

1053

995

 

AVERAGE SEEN PER PARTY

 
 

7.75

8.24

8.9

7.7

6.82

 

AVERAGE SEEN PER HUNTER

 
 

1.9

2.13

2.25

2.09

1.79

 

AVERAGE SHOT PER PARTY

1.38

 

2.08

2.18

2.11

1.97

1.84

 

AVERAGE SHOT PER HUNTER

0.52

     0.65

0.51

0.56

0.53

0.53

0.48

 

RED DEER SEEN

 
 

9

34

27

27

3

 

RED DEER SHOT

 

8

3

8

10

5

2

 

CATS DESTROYED

 

72

26

40

35

28

25

 

SOURCE

NZFS

NZFS

NZDA

NZDA

RHCT

NZDA

RHCT

 

Notes: NZFS were enthusiastic at following up permit returns. Individual permits were issued.

 

1977 includes permits issued for Maori Land. After 1987 the figures do not include hunters using Rakiura Maori Land blocks (Est.800)

 
 
 
 
 
 
 
 
 
 
 
 
 
 
 
 
 
 
 
 
 
 
 
 
 
 
 
 
 
 
 
 
 
 
 
 
About 25 % of parties return permits. While we would like 100% compliance the returns especially the averages are remarkably constant.
Averages appear very consistent
Average 8.69 deer seen per party
Average 2.11 shot per party
One deer seen every 2.54 days hunting
One deer shot evey 10.41 days hunting
One deer killed every 4.08 deer seen
The winner of the Ridgeline sponsored draw for hunters who sent reports for 2015 went to Murray Welsh & party from Taupo.
Hunter returns can now be completed online at       Hunter Reports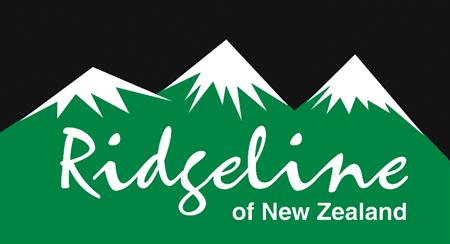 CHASING WHITETAIL BUCKS  (2021)  is my new book  -   Click here for details
320 pages in full colour with over 250 pictures.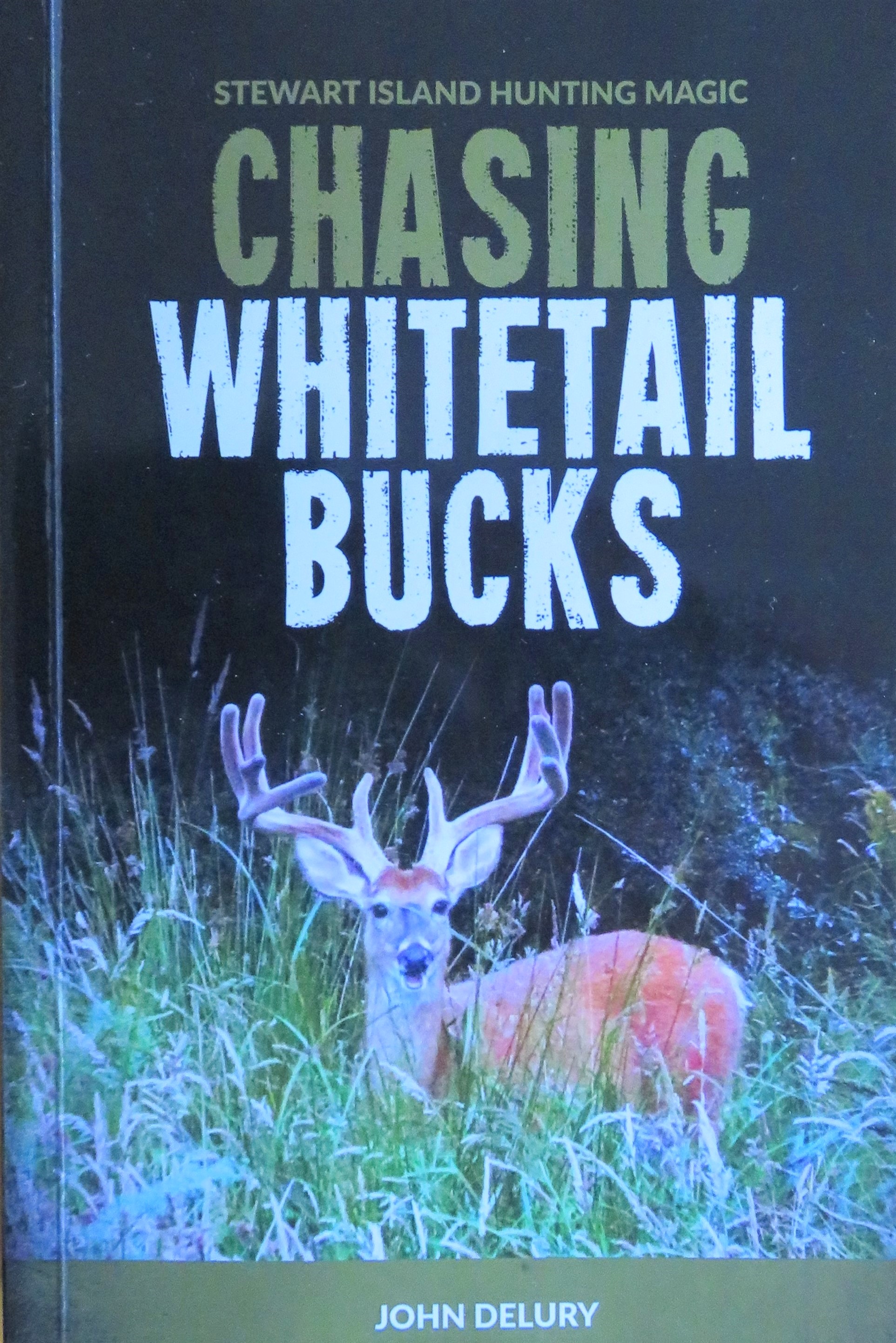 My first book - Chasing Whitetails (2019) has sold out and is now a collectors item.
In 1979 I went on my first hunt on Stewart Island and although I had previously hunted Red and Fallow Deer, Chamois and Tahr, it was Whitetail Deer that fascinated me.   Since that first hunt I have been to the Island more than one hundred times.  .  The history of our whitetail has always interested me and there is sufficient evidence to believe there is reason to question the origins of our deer.  There has been a lot of misinformation published over the years and I have endeavoured to set the record straight.
Contact me at This email address is being protected from spambots. You need JavaScript enabled to view it.
John DeLury
Heres what some people have been saying:-
Brendan CoeThis is one of the best hunting books published in the last few years. JD tells the story of the Hunter Hut Trust, which so many hunters benefit from. The hunting stories are excellent with plenty of trophies and John generously shares his knowledge on where to go and how to hunt the blocks he has visited (most of them). The photographs are excellent and feature on most pages throughout the book. This publication is the benchmark for Stewart Island hunting books to date.
Andrew RowlandJust receive your book and I must say of all the books I have bought this is by far a quality looking read and I think I will be in the shit latter as I will be having a problem putting it down. Congratulations on and great book.
Daryl Crimp wrote this review in The Fishing Paper & Hunting News.     The Fishing Paper & Hunting News review."