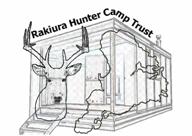 Rakiura Hunter Camp Trust.
The beginning:    
During the late 1990's the Department of Conservation approached hunters, transport operators and other interested parties about the problems of site degradation and rubbish at campsites on Stewart Island.   Hunters are required to use the designated campsite and there is usually only one per block.
 Trees were being cut down to build temporary shelters and large amounts of plastic and other material were being left behind for the next party.  As most hunters brought their own equipment, surplus covers, polythene and other items left behind soon became rubbish. 
It is estimated some 3000 hunters visit Stewart Island every year.  Some of the busier blocks have over 100 people at the campsite every year.  Most parties stay at least seven days.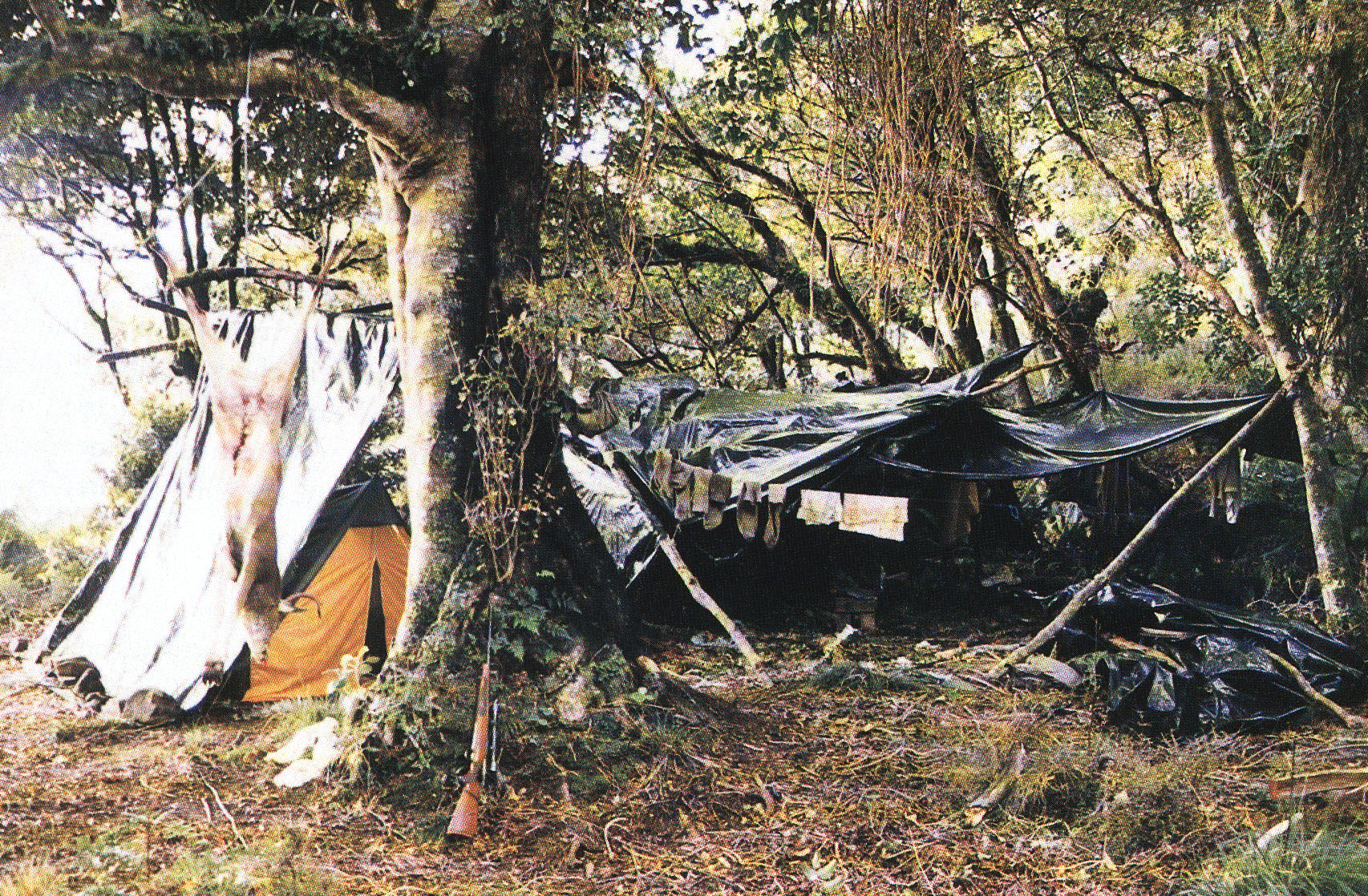 Typical improvised shelter at a hunting camp before the establishment of  Hunter Camp Trust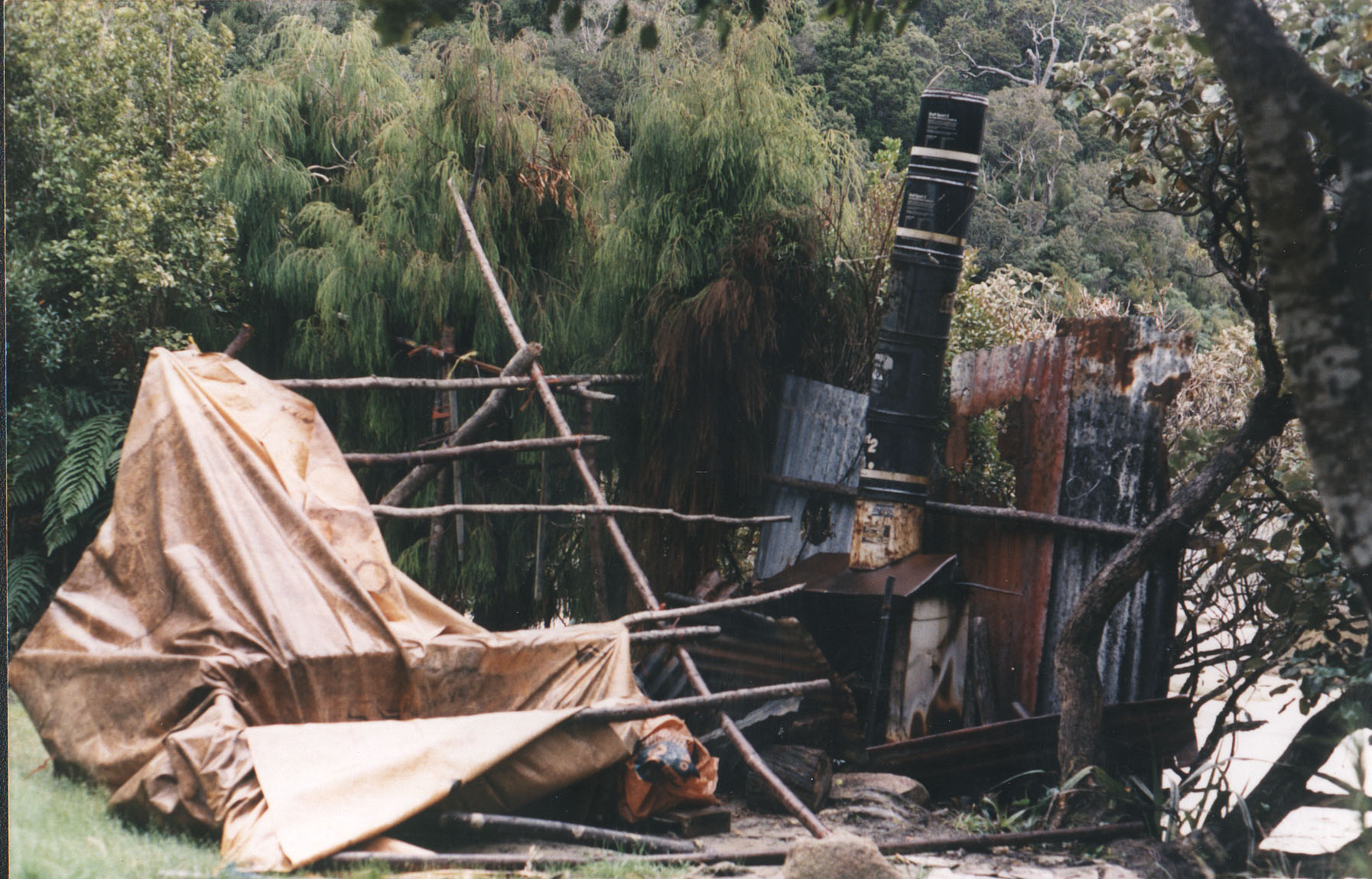 Campsite at Port Pegasus in 1995 showing saplings cut to make a shelter frame and assorted rubbish left behind.
Southern hunting groups were invited to a meeting at which it was accepted that hunters should do something about the problem. NZDA members took up the challenge.
After numerous meetings,  various hut designs were evaluated.  The first huts built cost a little over $6000
Design:
The plan was simple.   Each hut would be the same basic design.  The logic being that when hunters went to different blocks they would know exactly what was there and not have to take unneccessary materials.  They would be fitted with 6 bunks, a 1000 litre watertank and a small meatsafe.  It was important to have a large cooking/dinning area if the problems of improvised shelters were to be overcome.  The hut was constructed with tanalised ply and a Karaka coloursteel roof.  They are stained green to blend in with the surrounding vegetation.   Each hut is 3.6m x 8m of which 2m is veranda.   All huts have to comply with the building code and must be signed off by a building inspector.
Funding:
To get this project off the ground the Department of Conservation put up $10,000 for the first two years. .   Individuals and hunting clubs (mainly NZDA Branches) contributed $26,000).    Rakirua Hunter Camp Charitable Trust was established to facilitate finance.  The Trust arranged grants of $30,000 from Southland Community Trust and $11,000 from Lotteries Community Grants.   Southland Community Trust contribuited another $24,000 in 2008 but all other funding has come from hunters. In dollar terms at 2018 the trust has spent $750,000 with all labour being by volunteers.
The current Trustees are Ray Phillips, John DeLury, Dave Howden & Kerry Butson.
The aims of the trust are:- 
To provide a resonable standard of accomodation on hunting blocks.

To reduce the impacts of site degradation (stop trees being cut down)

The reduce the amount of rubbish being left at camp sites,

To reduce opportunity for conflict between hunters and trampers 
Fifteen sites were identified by hunters as being priority sites.
The first two huts were built by Stewart Island Lions at North and South Pegasus in December 2000.
The hut at North Big Glory was funded, precut and built by members of Central Otago Deerstalkers Club.
All other huts have been precut by Ray, John & Dave at Ray's Invercargill home.
 These other huts have been built by members of NZDA Branches.  Little Glory, Hapuatuna, Chew Tobacco, South West Arm (Southland)  North Tikotatahi (Southland & Western Southland),  Kellys (Gore Branch),  Abrahams Bay (Southland , Taranaki & North Taranki).
  The first  eight huts were built to a strict budget with no frills.  However, those huts have since been upgraded with the addition of aluminium doors and the interiors have been lined.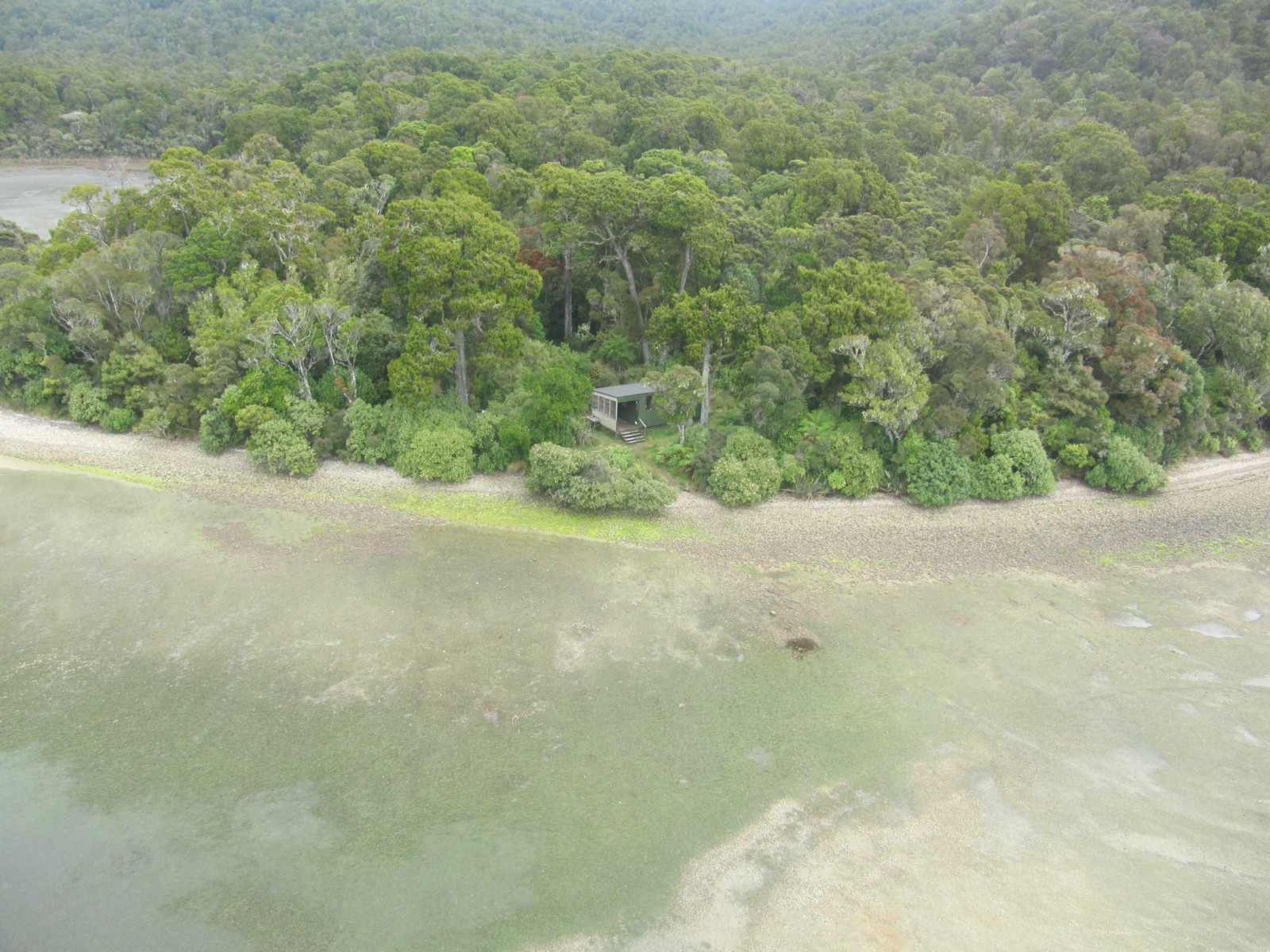 Abrahams Bay
This hut was funded and built by members by Taranaki  & South Taranaki NZDA (funded $5k)  & Southland Branch NZDA June 2001.  Builders  Rob McGregor, John Wells, Alex Reeves, Mike Webber, Rod Rayner, Colin Machrae, with assistance from Ray Phillips and John Bonn from Southland Branch.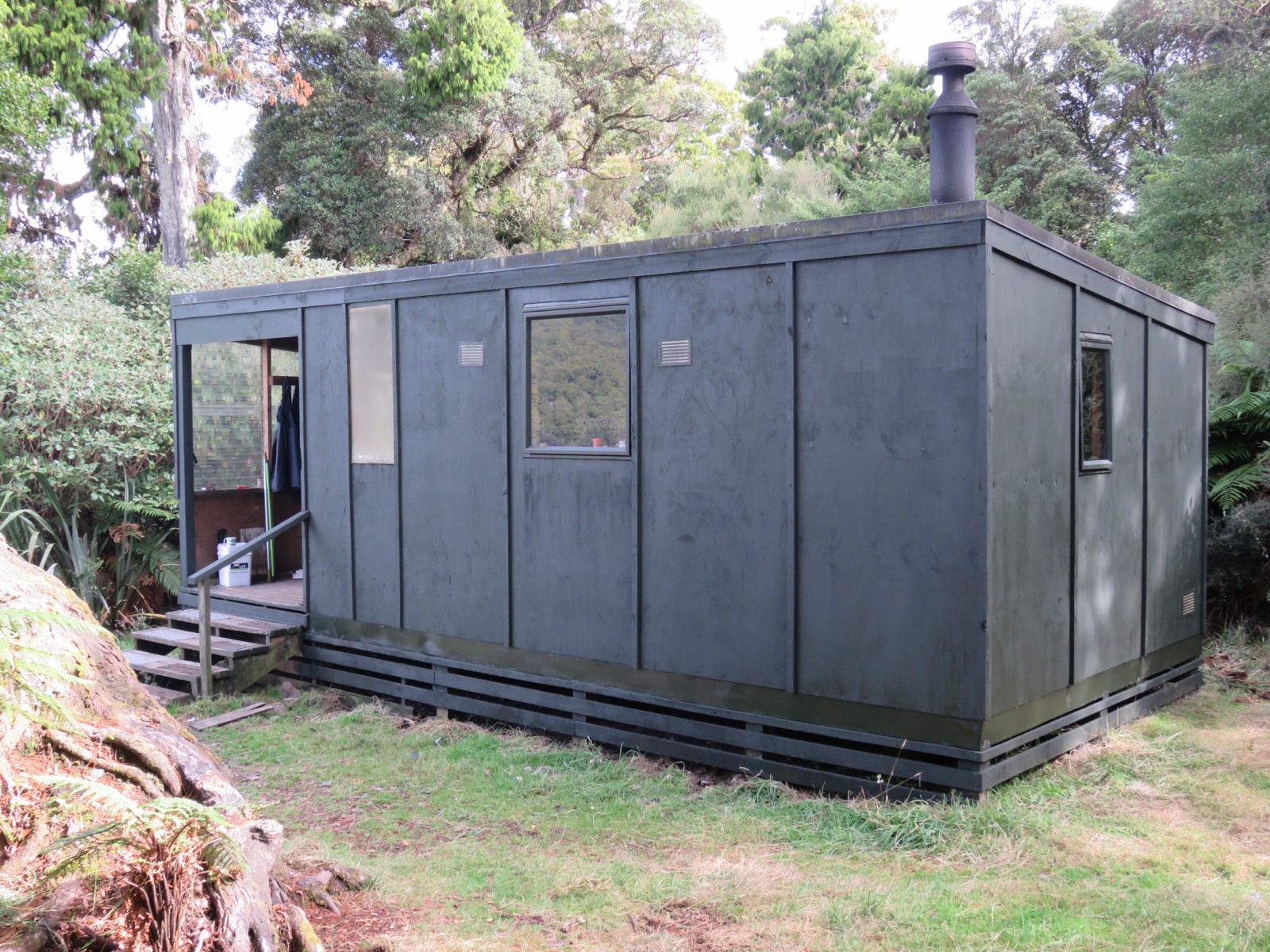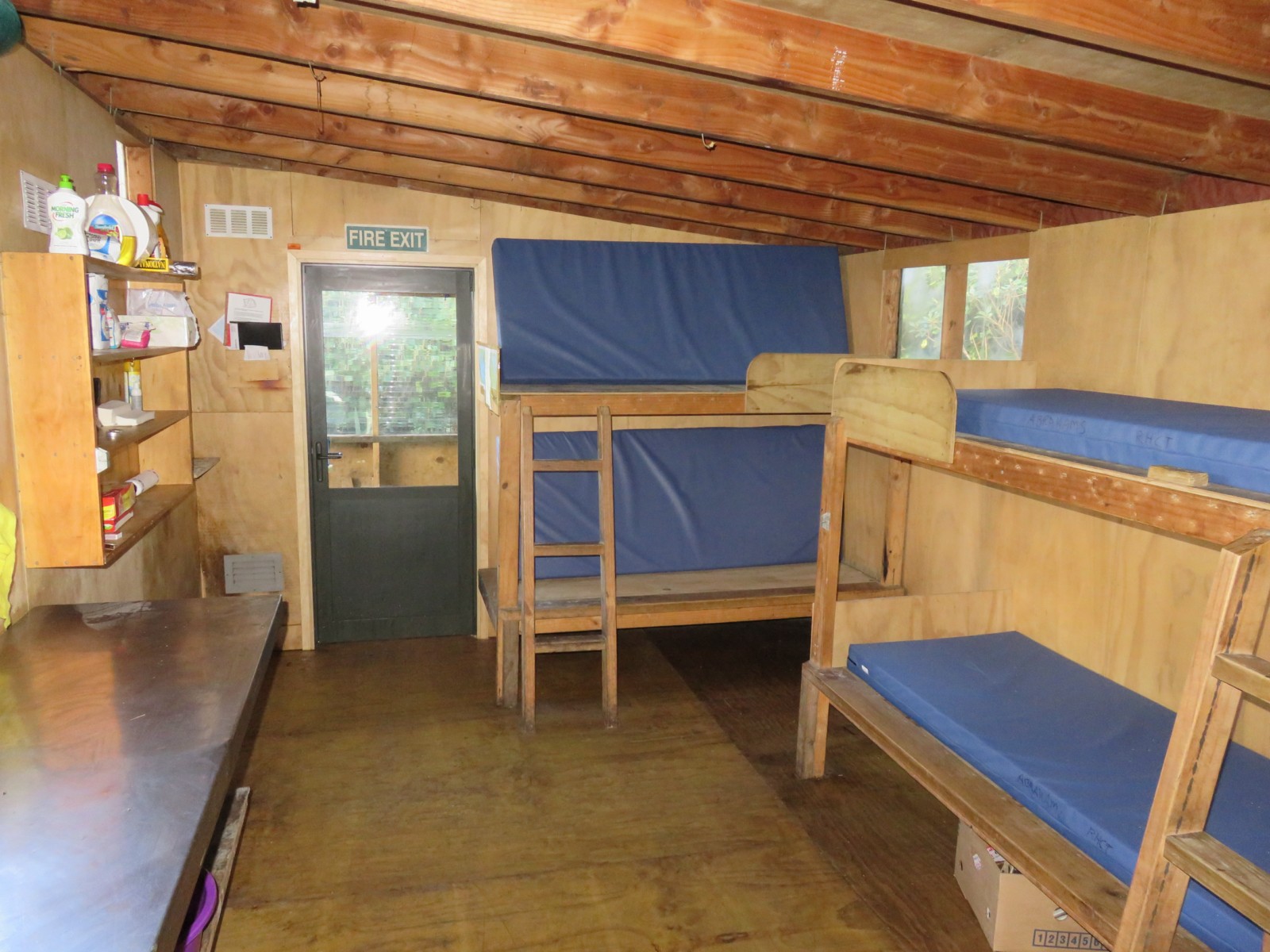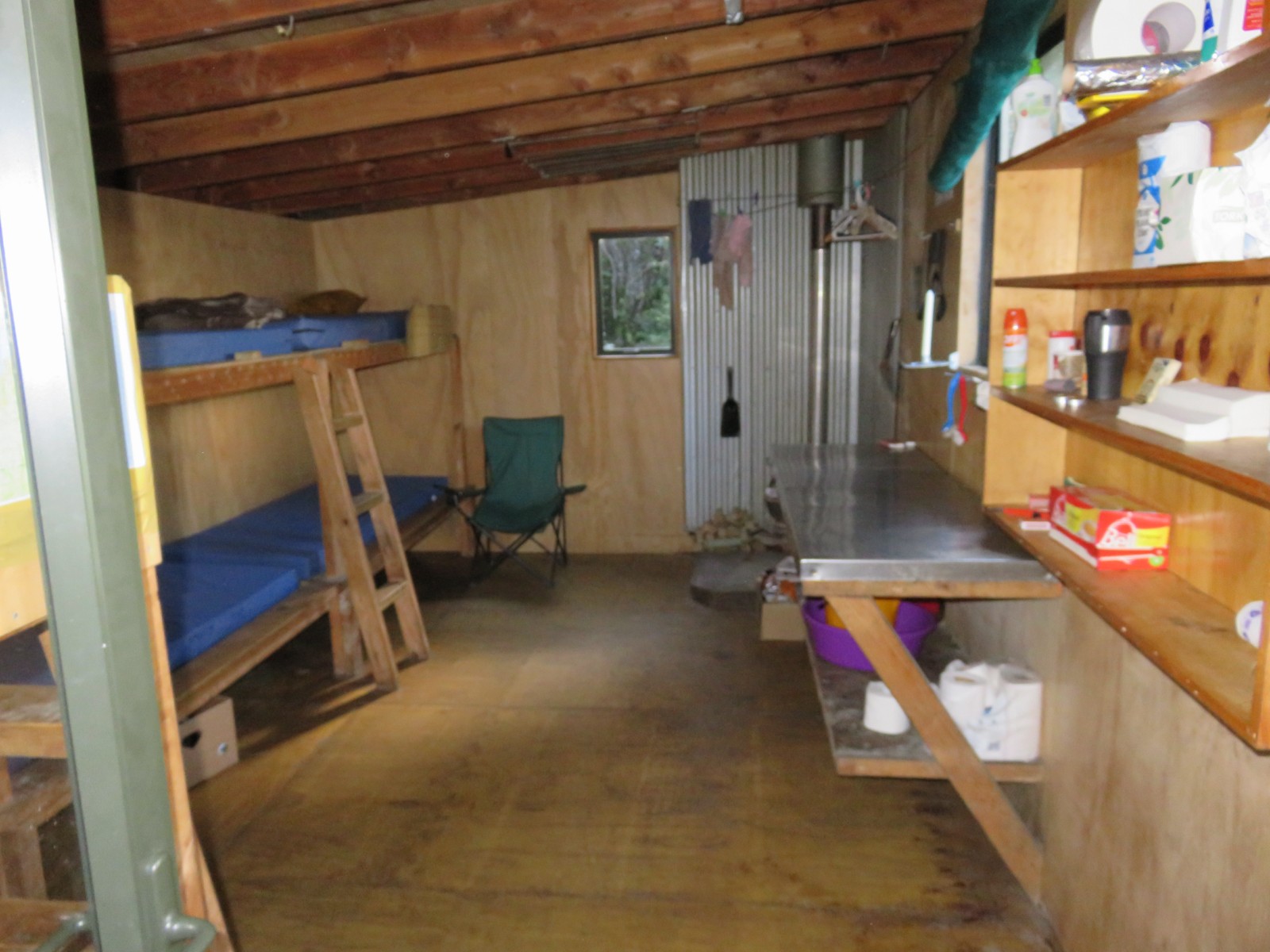 Interior of Abrahams Bay hut showing typical layout after 2016 upgrade.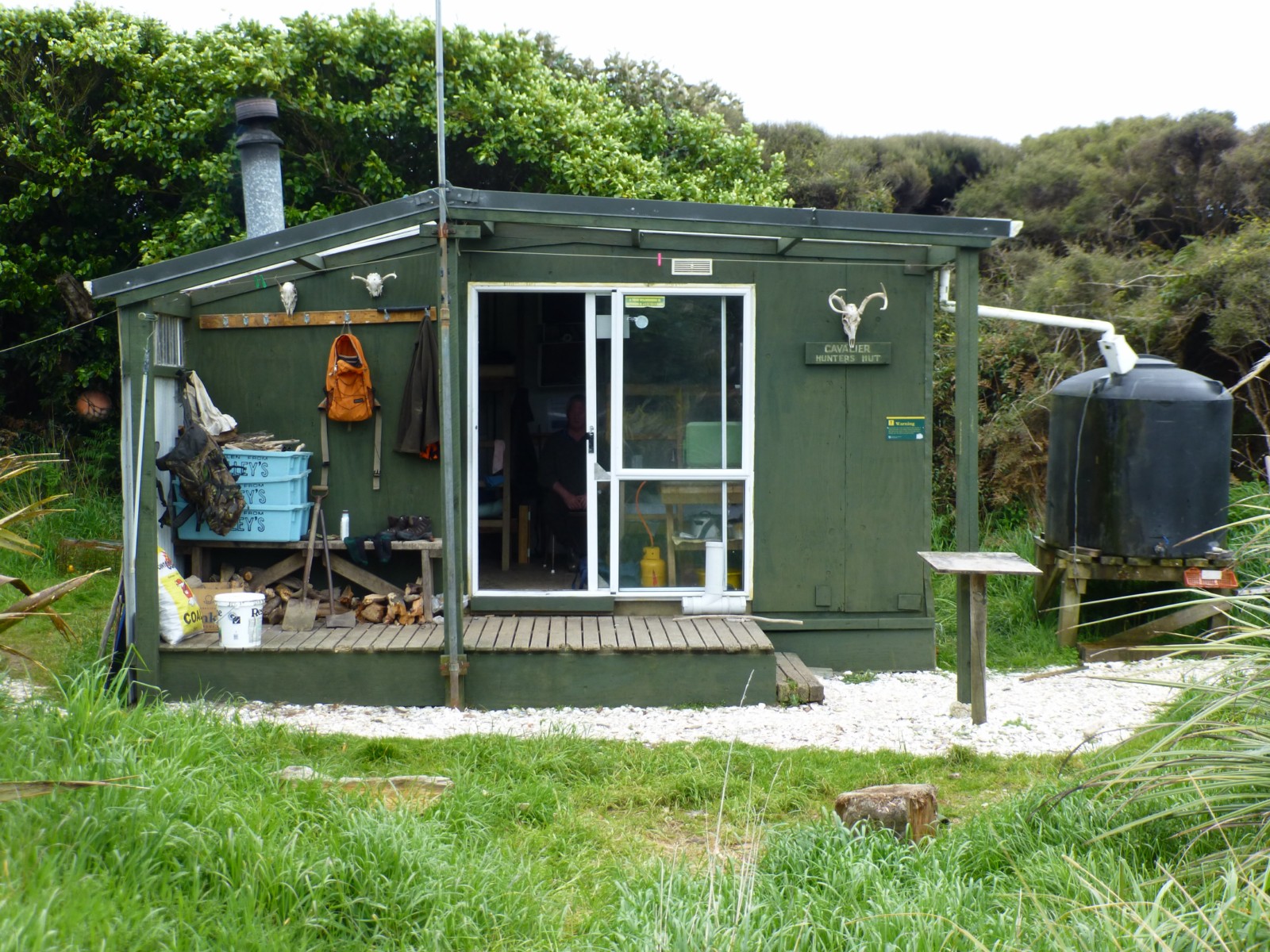 Cavalier
Cavalier started life as a tiny 3 x 1.5 metre shelter (to the left of the aerial pole in the photo) put in by the Forest Service in the  1980s. The covered area was progressively enlarged by hunters with makeshift tarpaulins and by the 1990s had become another shanty shack. In 1996 it was closed in a pot belly stove installed to replace the old drum fire.  The upgrade was completed by Ray Phillips, John DeLury and Neville Miller at Ray and Johns expense. . This was the spark for the involvment of hunters with campsite.   Subsequent work at Cavalier has been completed by the Trust. There are only four bunks in  this hut.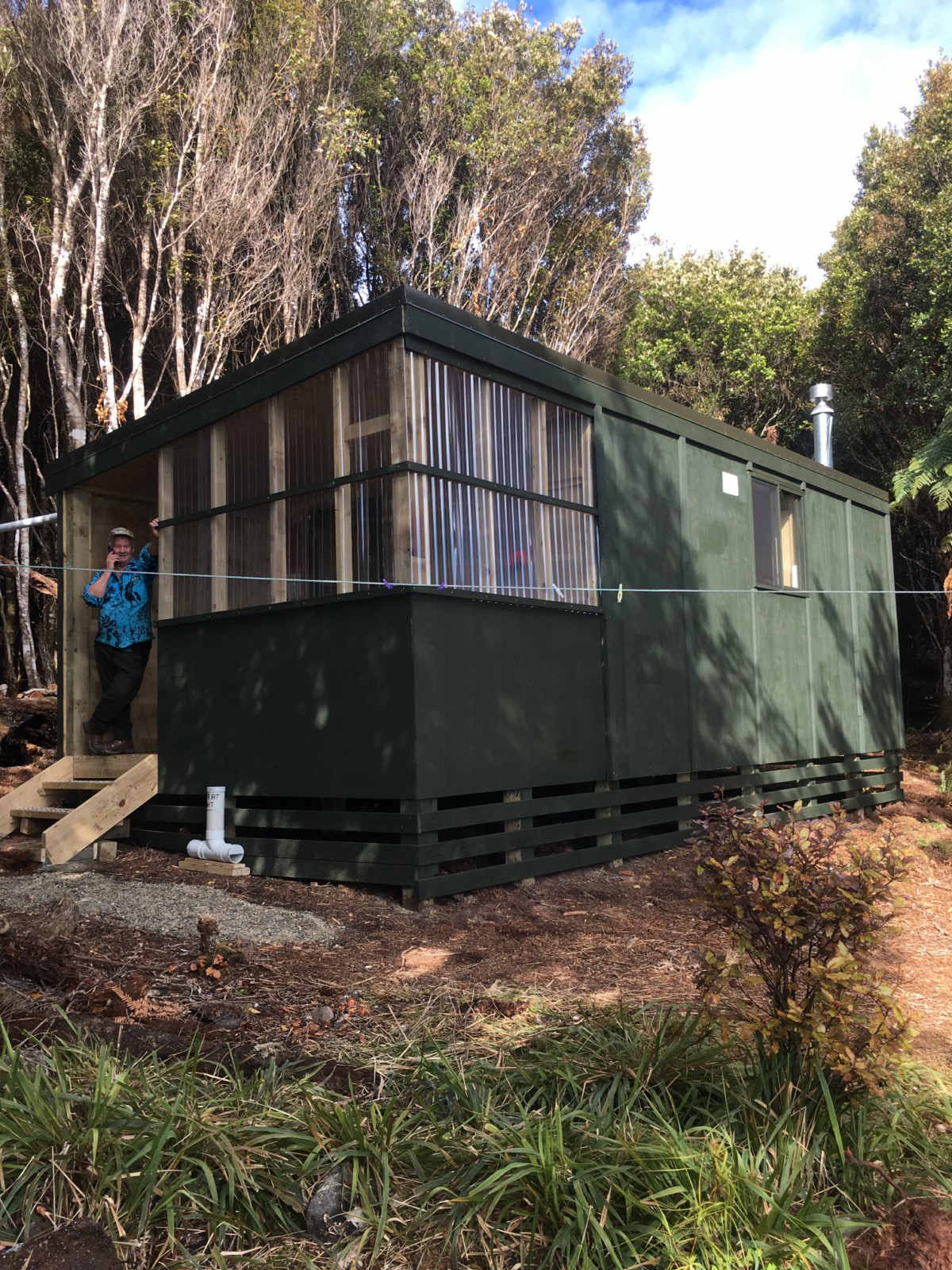 Christmas Village
Christmas Village Hut was built by NZ Forest Service about 1966 as a base for hunters.  The Hut Trust took over management in 2000.  The following year a  the veranda was added and the open fire replaced with a pot belly stove. By 2017 it was agreed that the old hut had deterioated to the stage it was uneconomic to repair and a new hut to the Trusts standard design was built that November.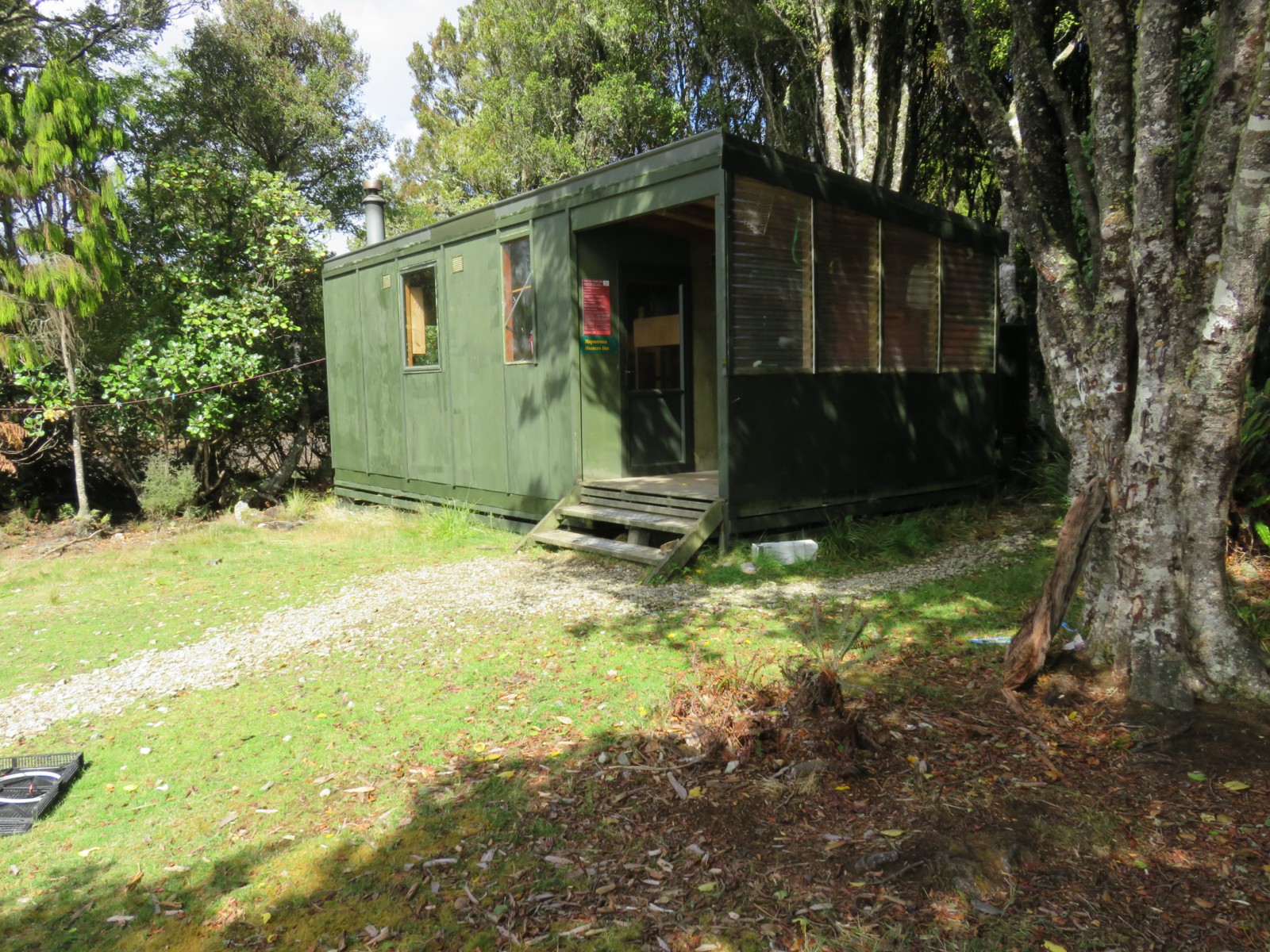 Hapuatuna
This hut was funded and built by members of the Southland Branch NZDA in February 2001.  Builders:  Dave Howden, Ray Phillips, John DeLury, Nathan Dawson, David Brown & Doug Hamilton. Transport of builders and material donated Stewart Island Ferry Service.  (Foveaux Express).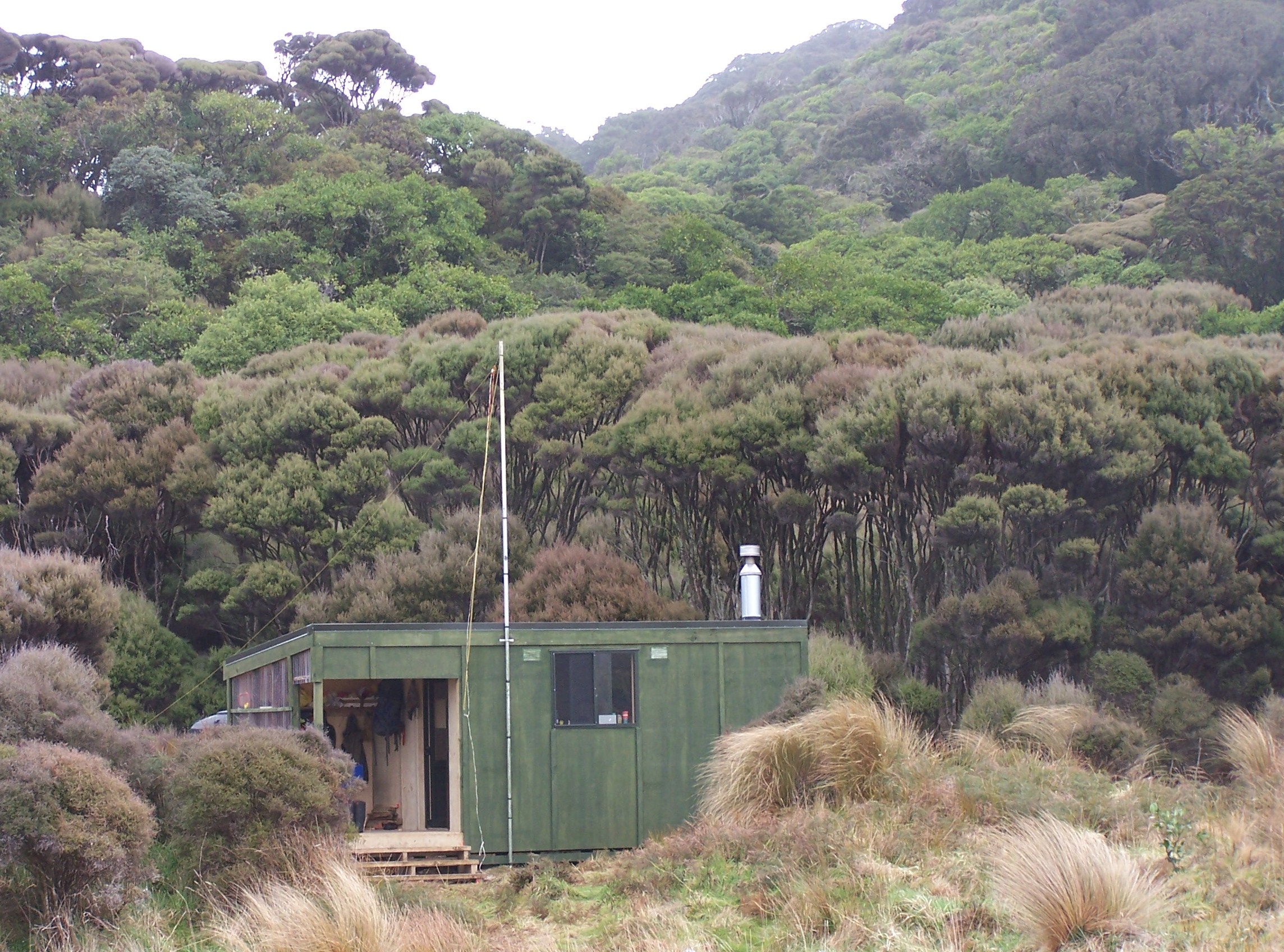 Homestead
 The original hut began life as a deer quietening shed built by Tim TeAika when he held the farming lease here.   Tim used to trap deer and keep them in the paddock in which this hut sits.  The shed was roughly converted by Doc staff about 1990 and was maintained for a few years by  members of the Southland Recreational Hunting Club from Invercargill until he formation of the hut tyrust in 2000.  This hut was built by members of Southland, West Coast & South Otago branches NZDA in 2008.   Generous financial assistance provided by Community Trust of Southland. There are only four bunks in this hut.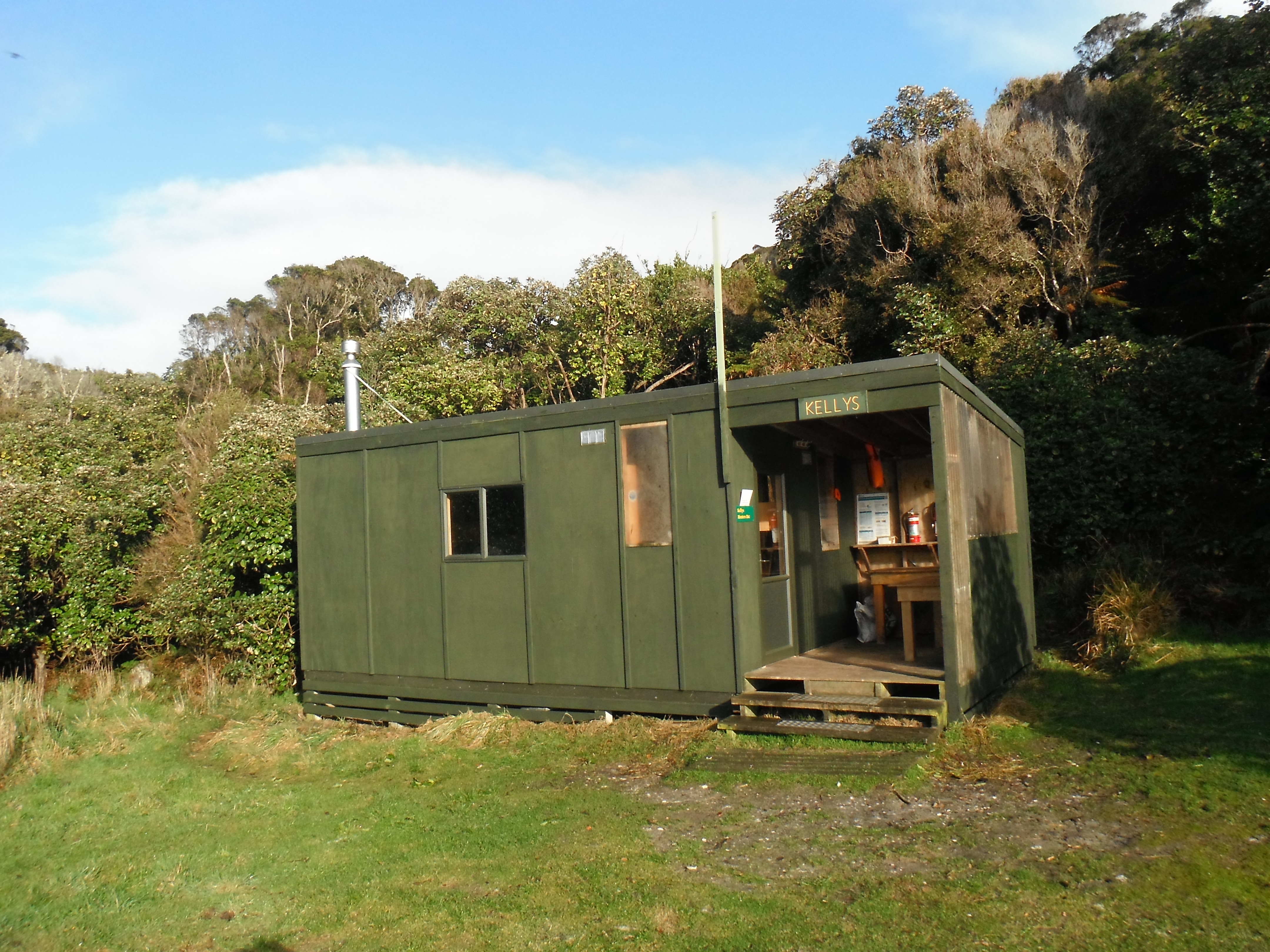 Kellys 
Construction was completed by members of Gore & District Branch NZ Deerstalkers Assn in 2001.  Transport of builders and material donated Stewart Island Ferry Service  (Foveaux Express).   Building funded by a grant from Lotteries Grants Commission.  
Builders Dave McFadzien, Kevin Baxter, Ivan Sellwood, Phil Sellwood, Allan Patterson, Geordie Milne, Owen Milnes, Scott Damsteegh, Steve Hogg.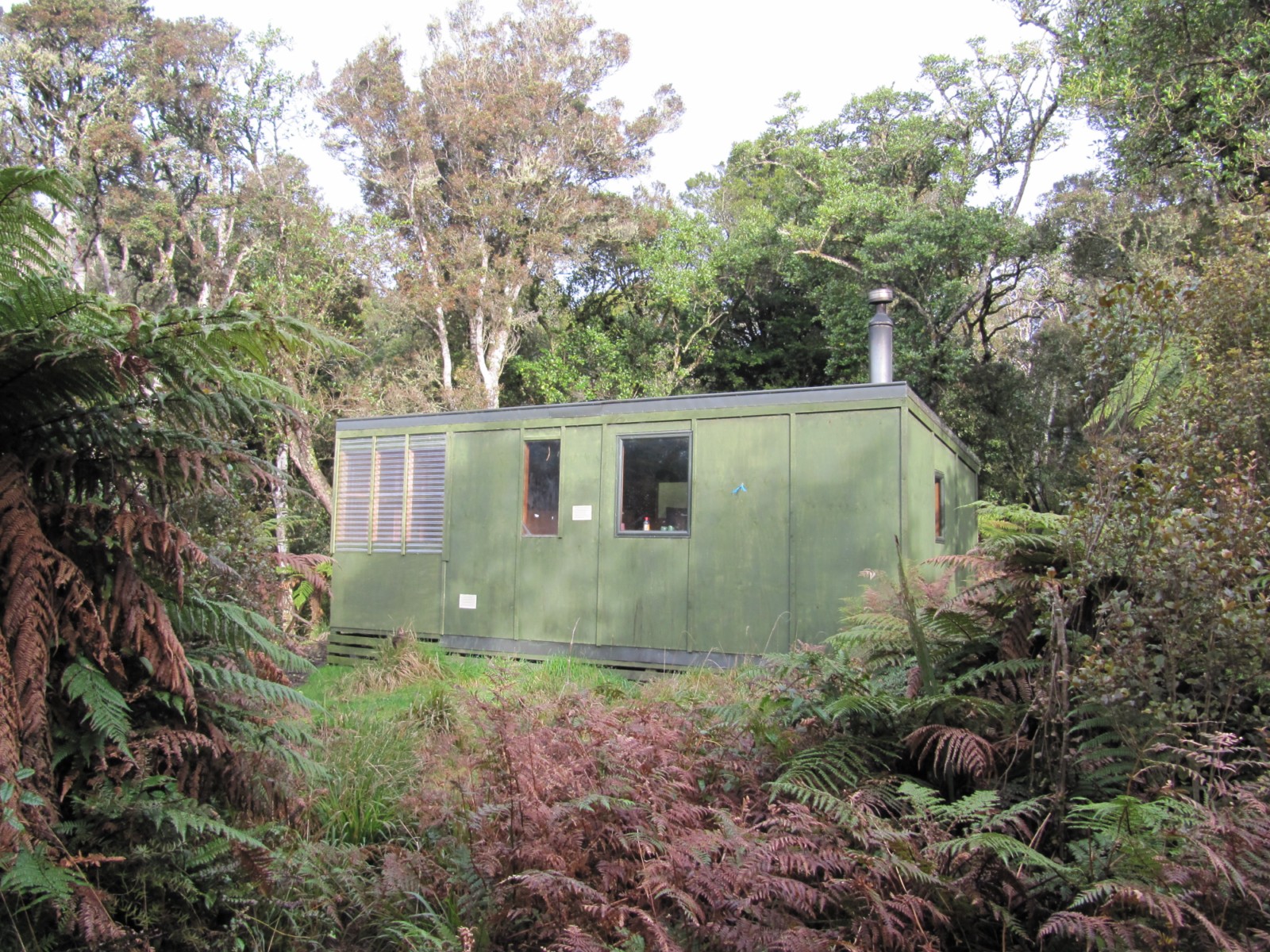 Little Glory
This hut was funded and built by members of the Southland Branch NZDA in February 2001.  Builders:  Dave Howden, Ray Phillips, John DeLury, Nathan Dawson, David Brown & Doug Hamilton. Transport of builders and material donated Stewart Island Ferry Service.  (Foveaux Express).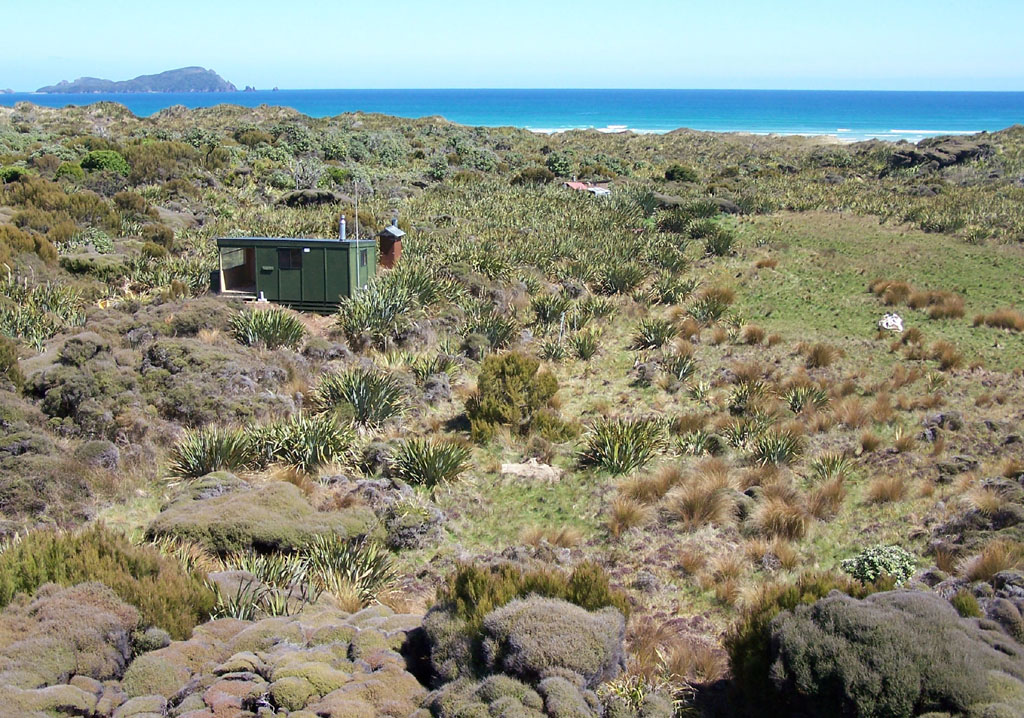 Martins Creek.
The original Martins Creek hut was built by Stanford and Dolly Leask as a beach cottage from flotsam off the beach.  They had the Island Hill lease from 1942 until 1965 when they sold to Tim TeAika.   Dolly planted the waterlilies in the pond in the old creekbed.  To get there follow the depression from the track to the north-east.  They flower prolifically Jan/Feb.
 It is thought this hut just fell to pieces and was located somewhere near the macrocarpa tree.  
During the 1980's a plastic shelter was built by hunters.  After a hunter was burnt by a fire a very basic hut was built by Lands & Survey Dept.   The hut was very small and cramped with an open fire inside the hut which continually smoked regardless of where the wind came from. The hut was modified by Southland Branch NZDA members by adding 1.5 metres and installing a potbelly stove 1998.
 In 2008 the present hut was built by Rakiura Hunter Camp Trust with generous financial assistance from the Community Trust of Southland. 
 Builders:  Ray Phillips, Nigel Hodge, Alex Kidd, Bill & Kathy Duncan, Doug Gordon, Steve & Sam Long.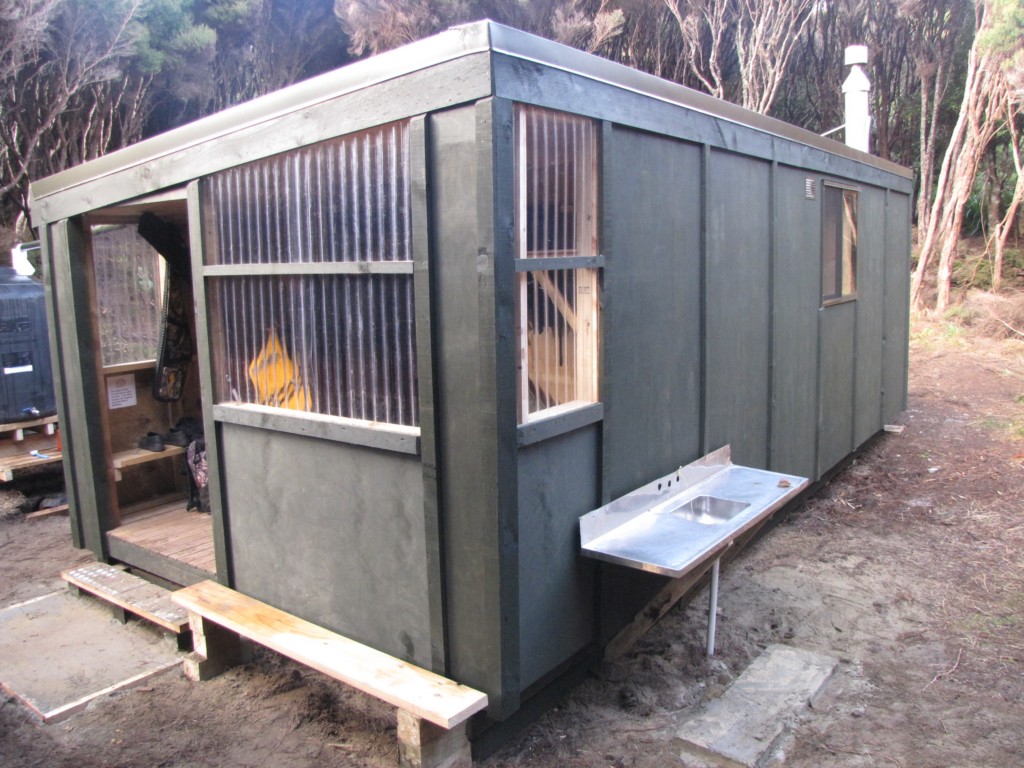 Murray River
Constructed in February 2014 Murray River was the first hut to have a Wagner Sparky fire installed after the Yukon potbelly stoves previously used became unavailable due to the Clean Air Act. Builders:- John DeLury, Mike DeLury, Hacky Sims, Mark Casserly, Brian Winsloe and Richard Cook.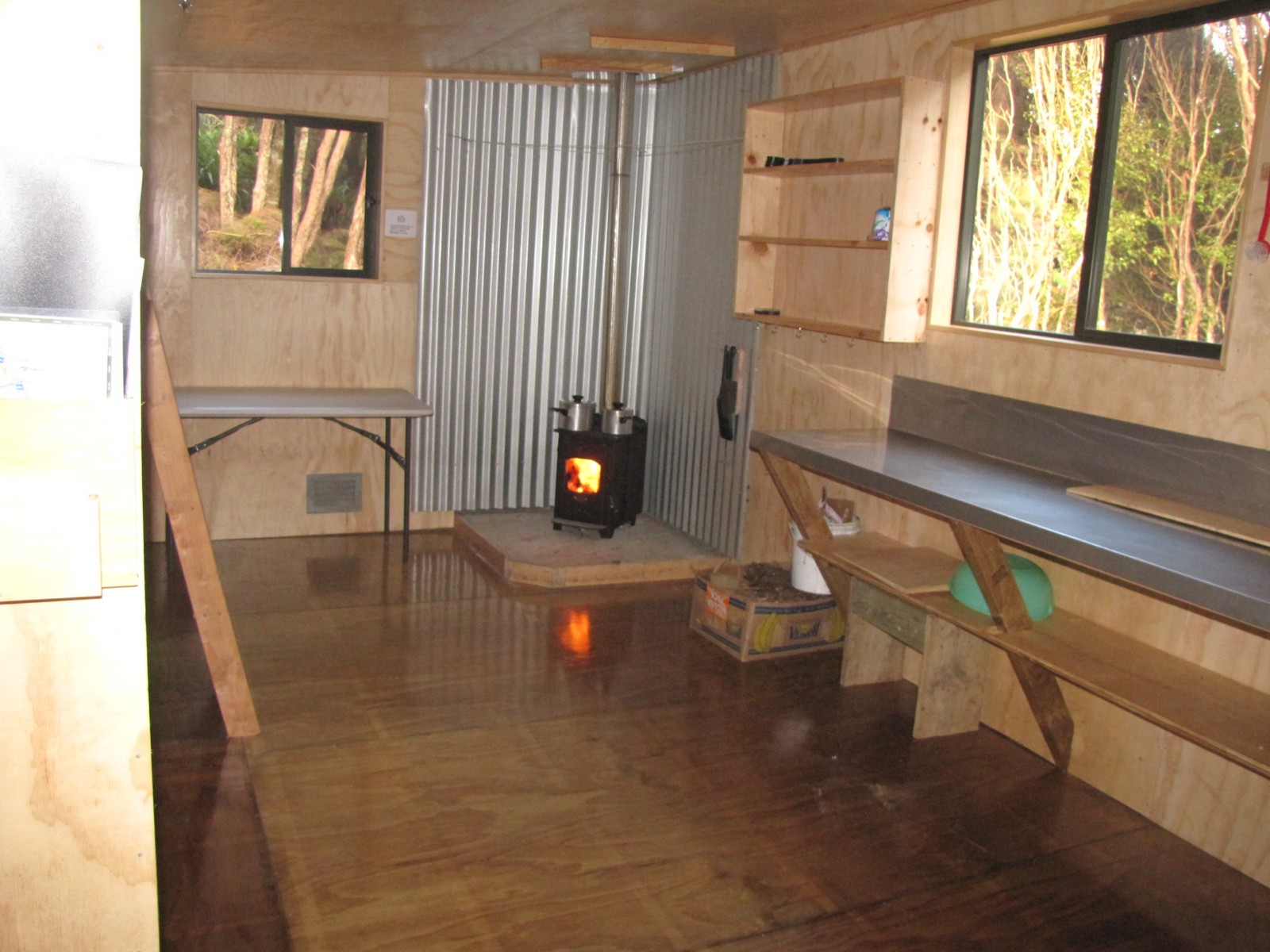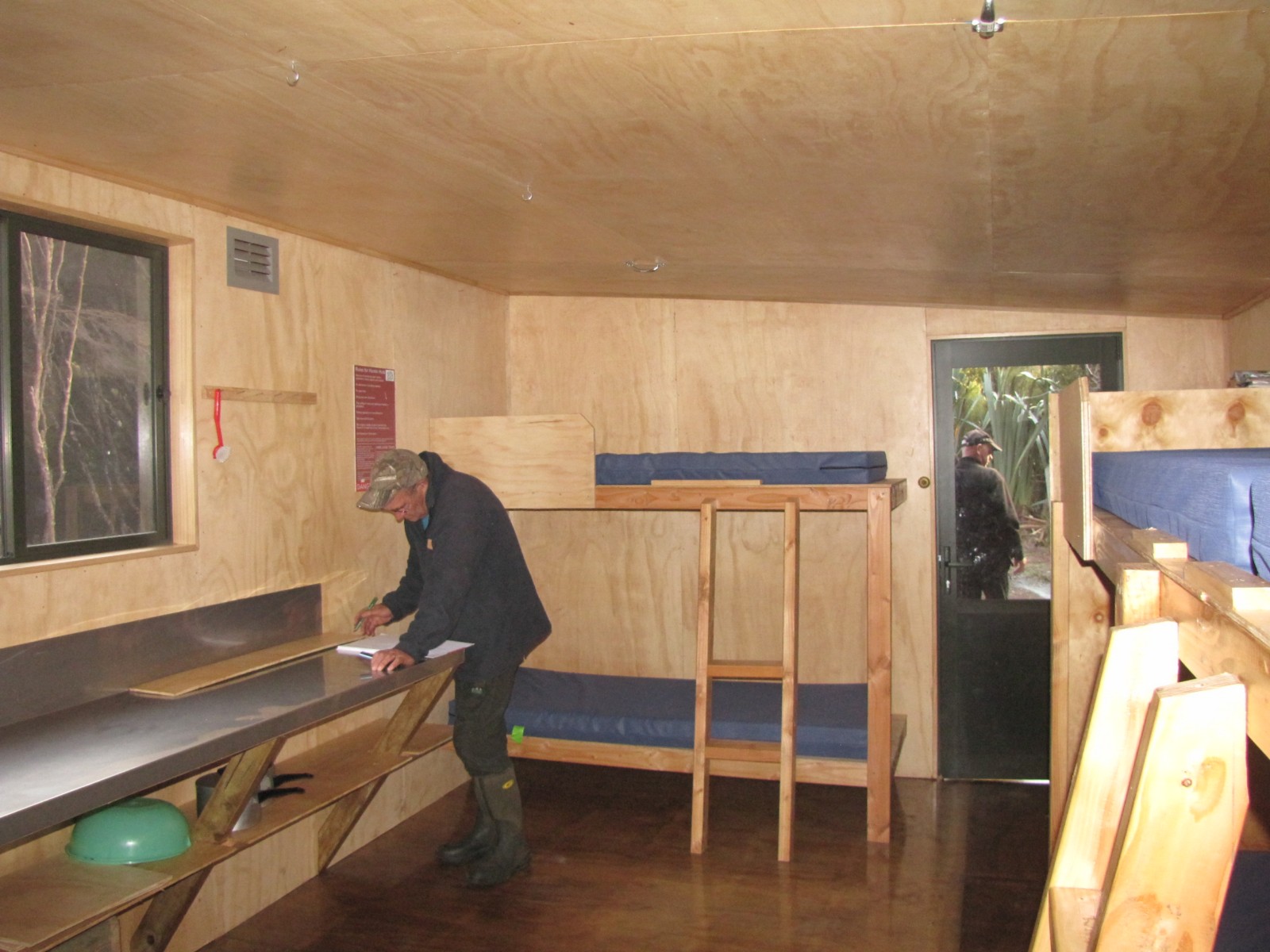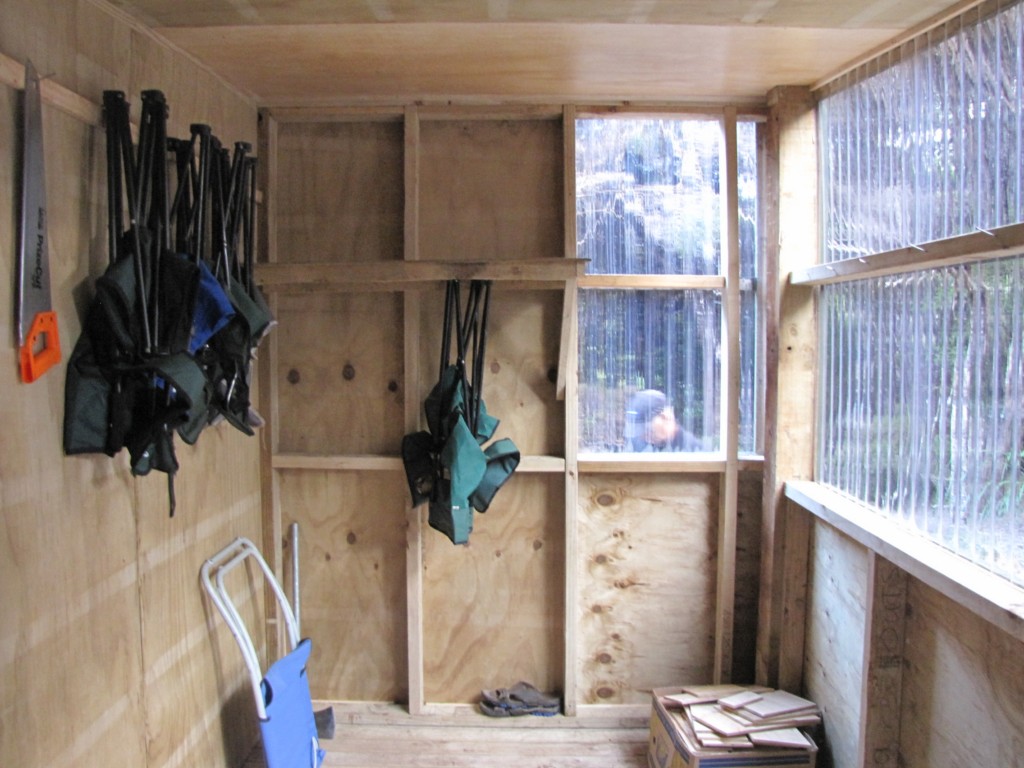 All standard huts have a 2m x 3.6m closed veranda to allow storage and drying.
For more information on the hut building process see:- http://www.3news.co.nz/Stewart-Island-introduces-hunter-huts/tabid/423/articleID/335171/Default.aspx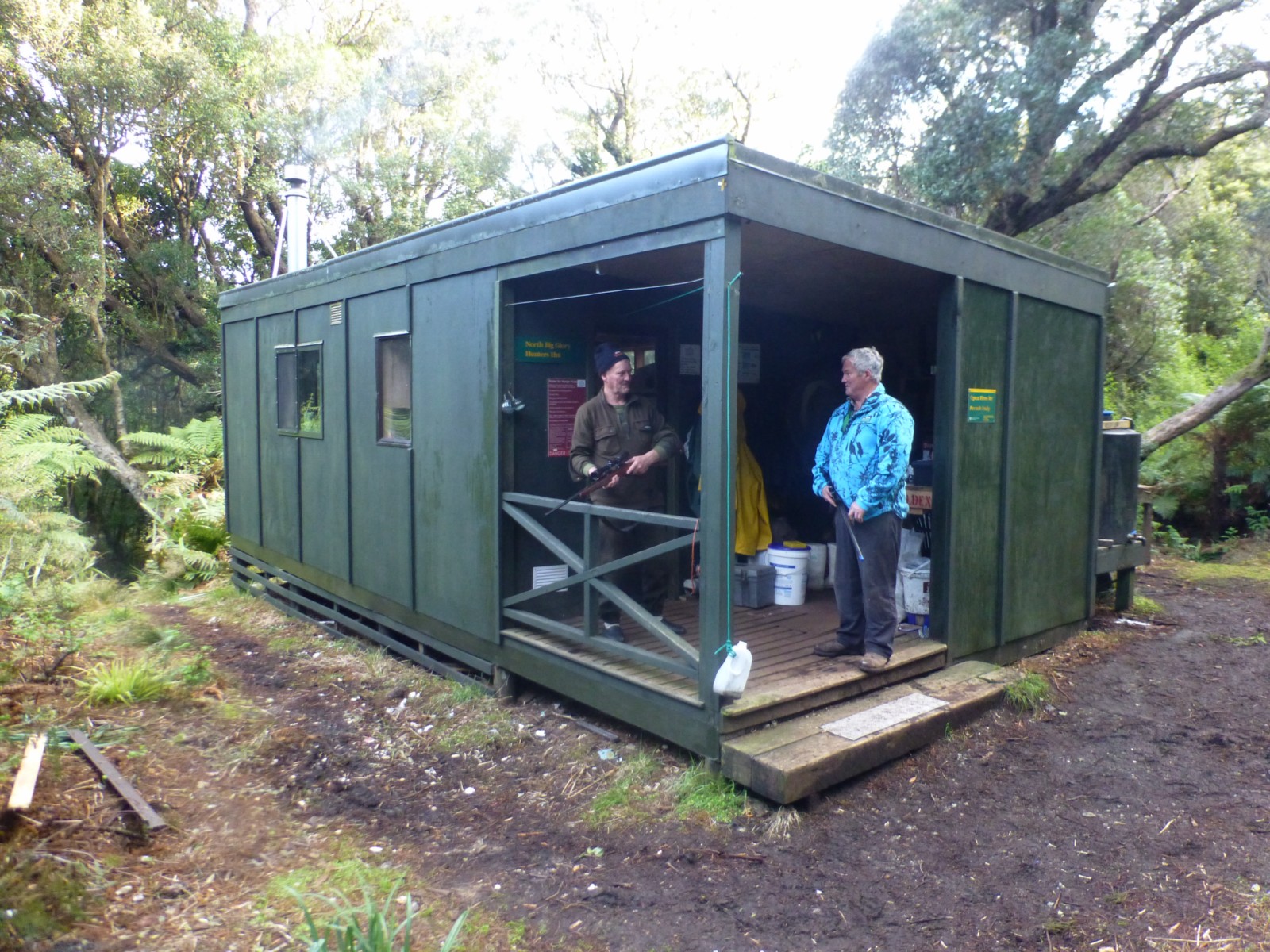 North Big Glory
 This hut was built in February 2001.  It was funded and built by members of Central Otago Deerstalkers Club. Builders  Peter Southee, Pieter Hopper, Hans Biemond  Ken Leckie, Eric Whipp, John Searle,  Bevan Todd.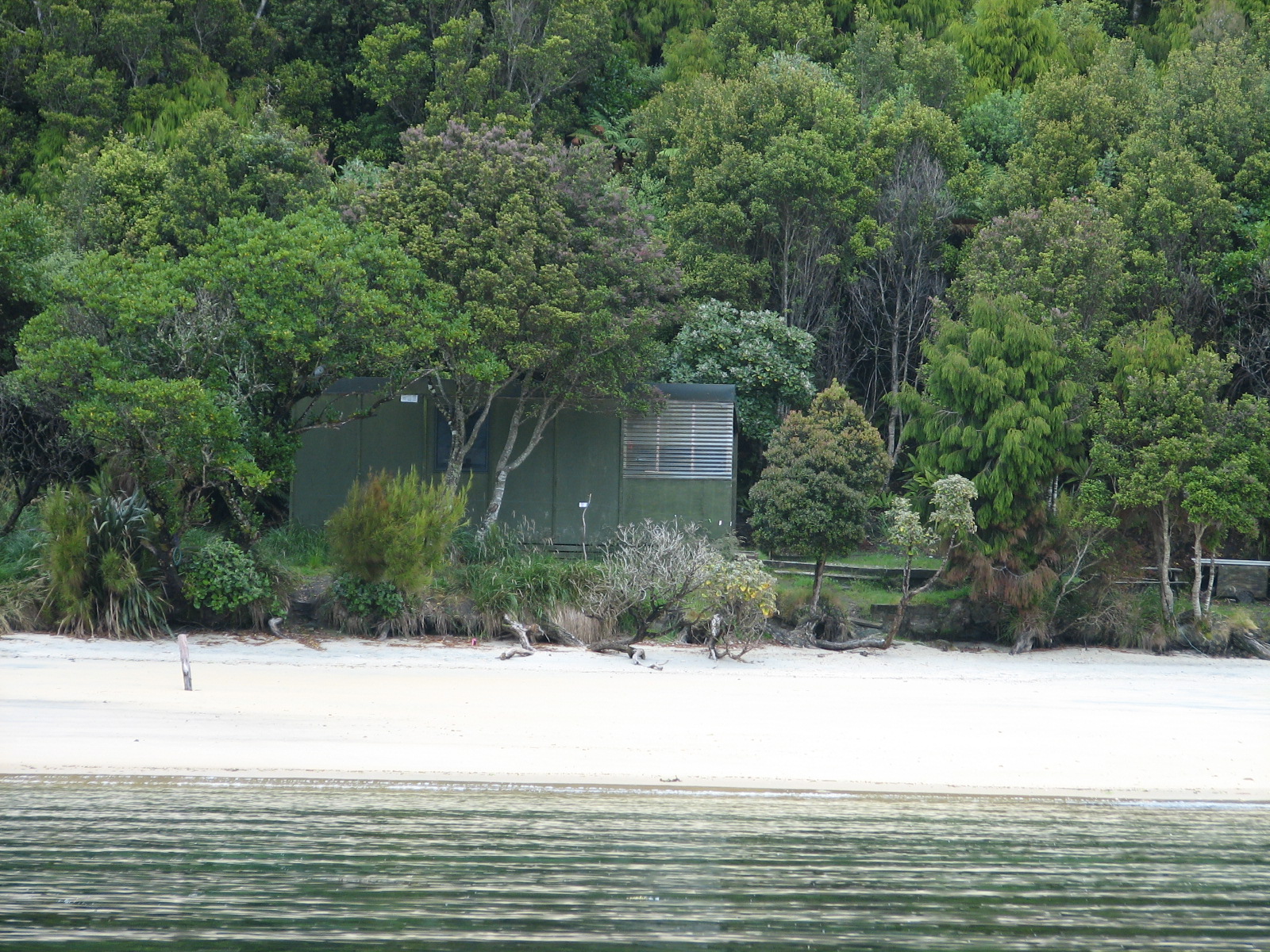 North Pegasus
This hut was constructed in December 2000 by members of the Stewart Island Lions Club after being precut and organised by the Hunter Hut Trust.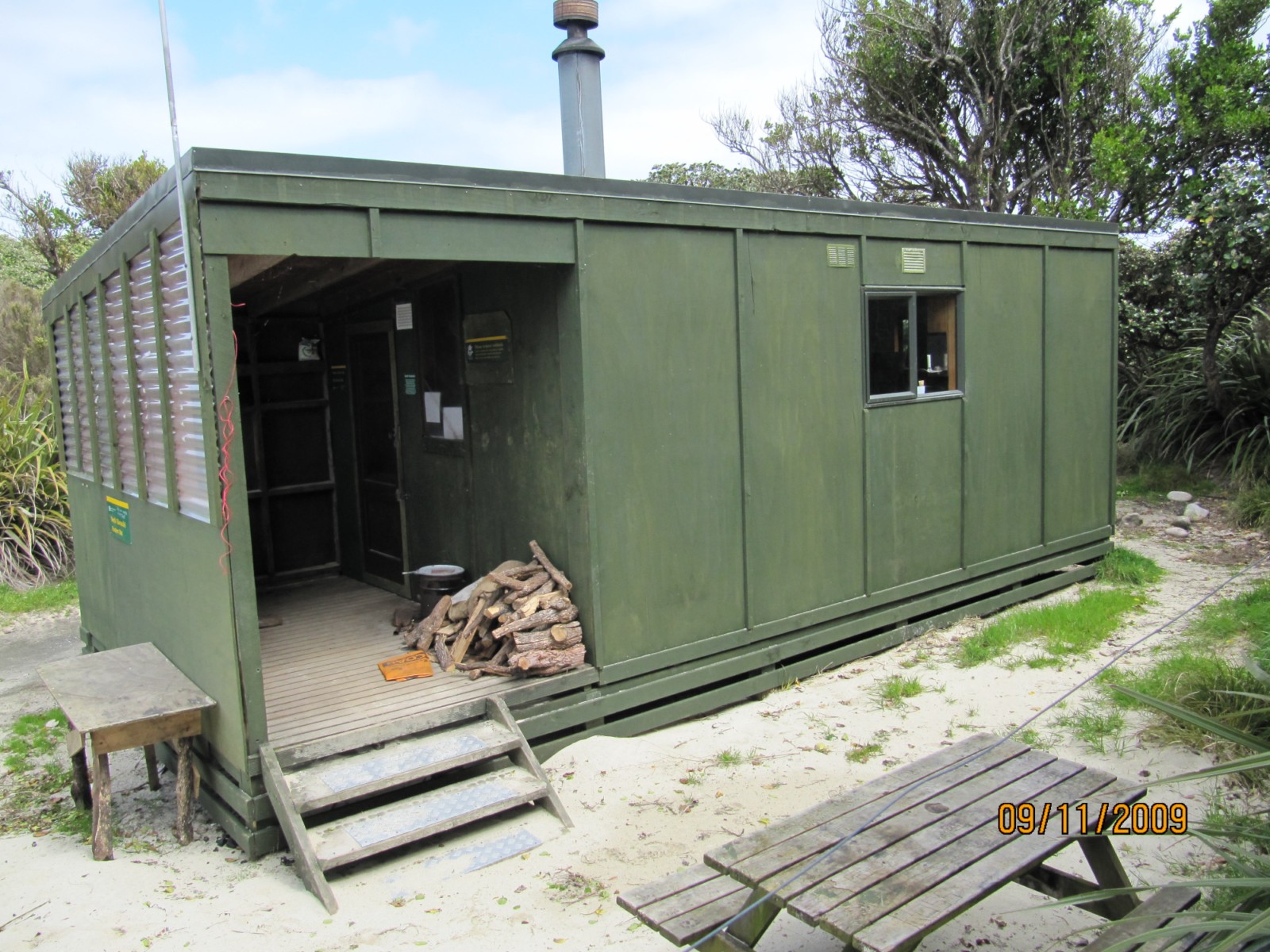 North Tikotatahi
Built in October 2001 and funded by Southland Branch NZDA and Rakiura Hunter Hut Trust. 
 Builders, Nathan Dawson, David Brown, Brian Robinson, Southland Branch NZDA,  Maurice McCabe, Dary Shirley, CJ Sutherland from Western Southland Branch NZDA..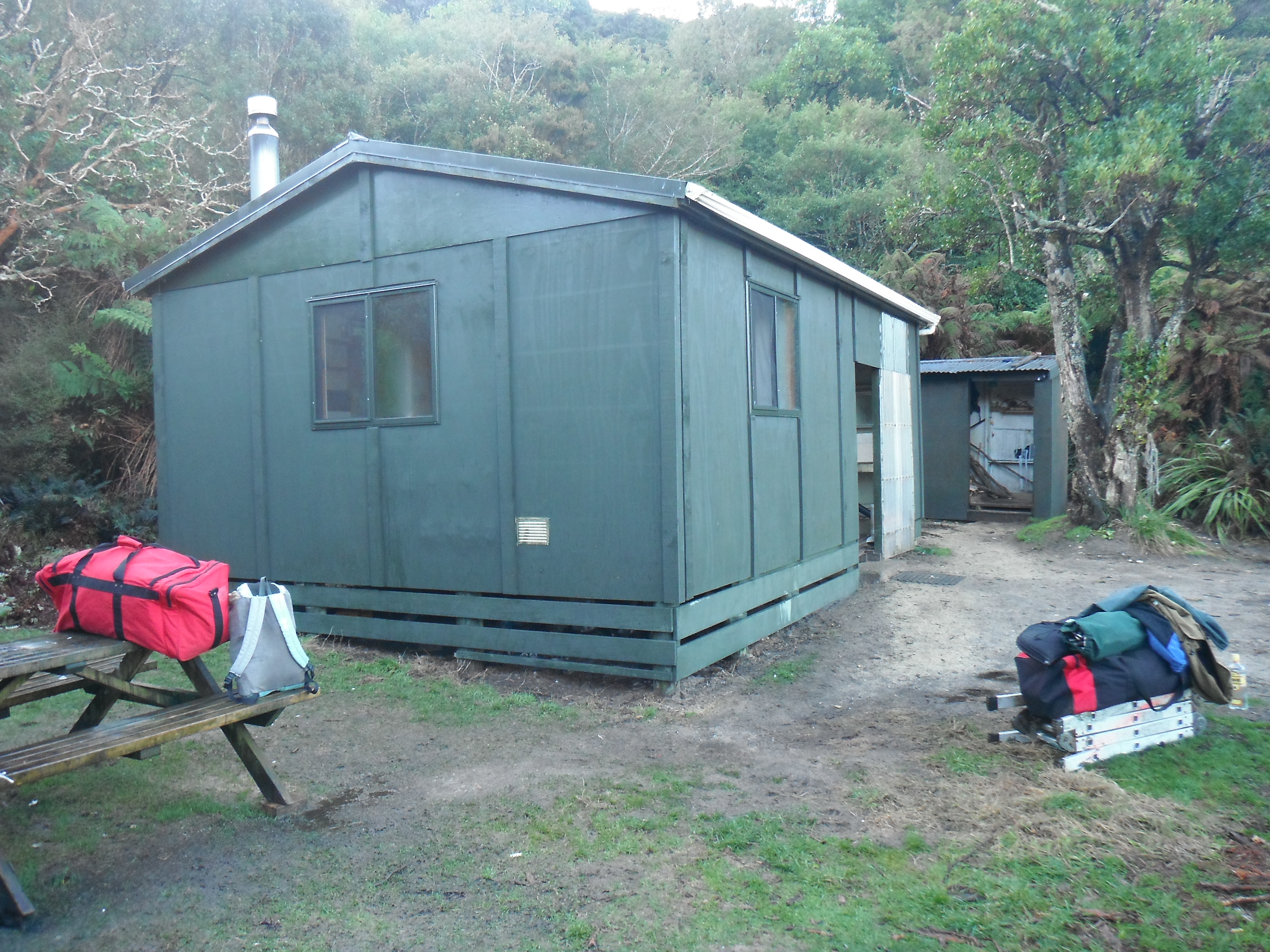 Port Adventure  (Bosom)
Originally built by NZForest Service management of the hut was taken over by the Hut Trust in 2001.  Since that time new roof and windows have been installed.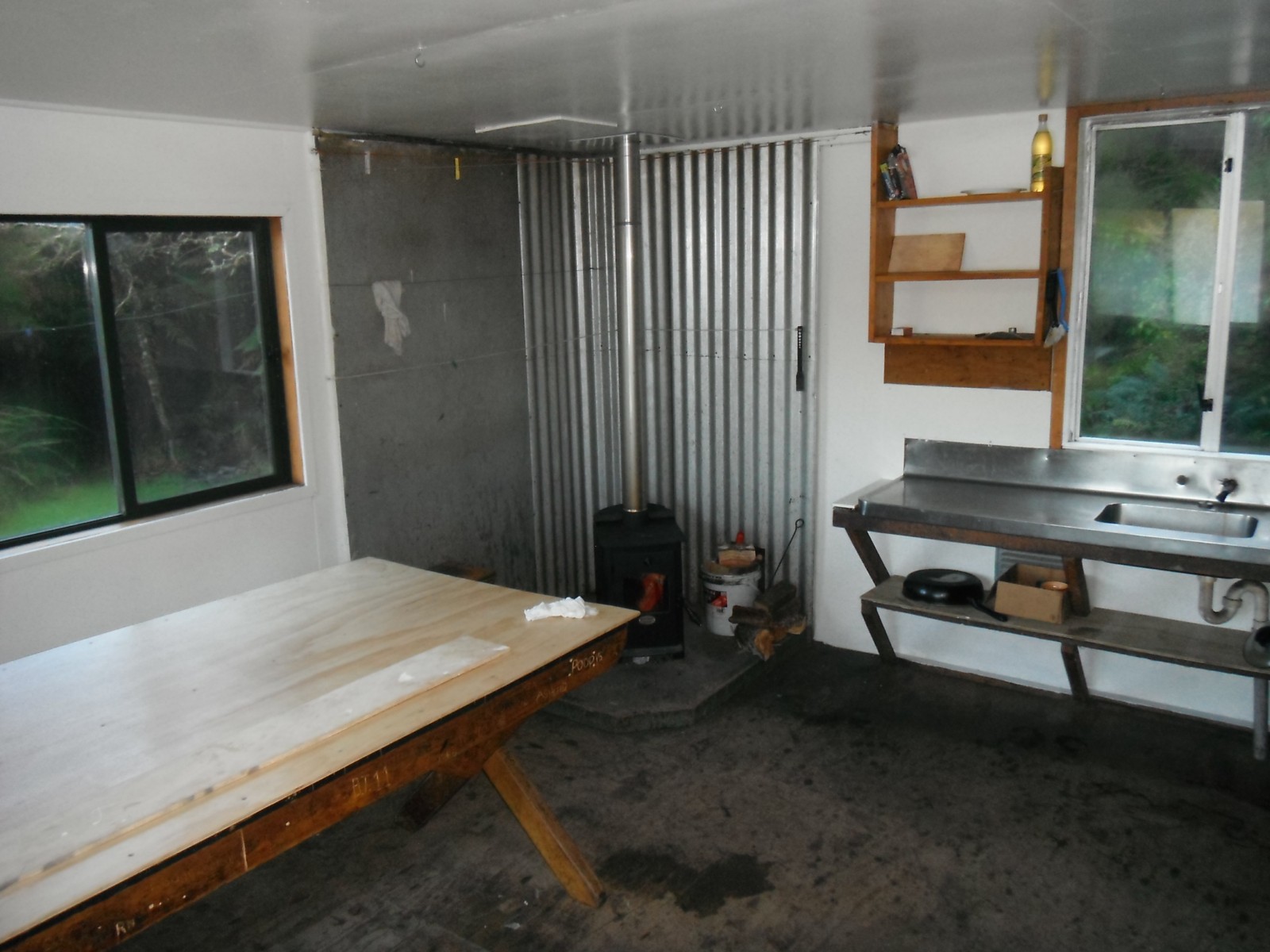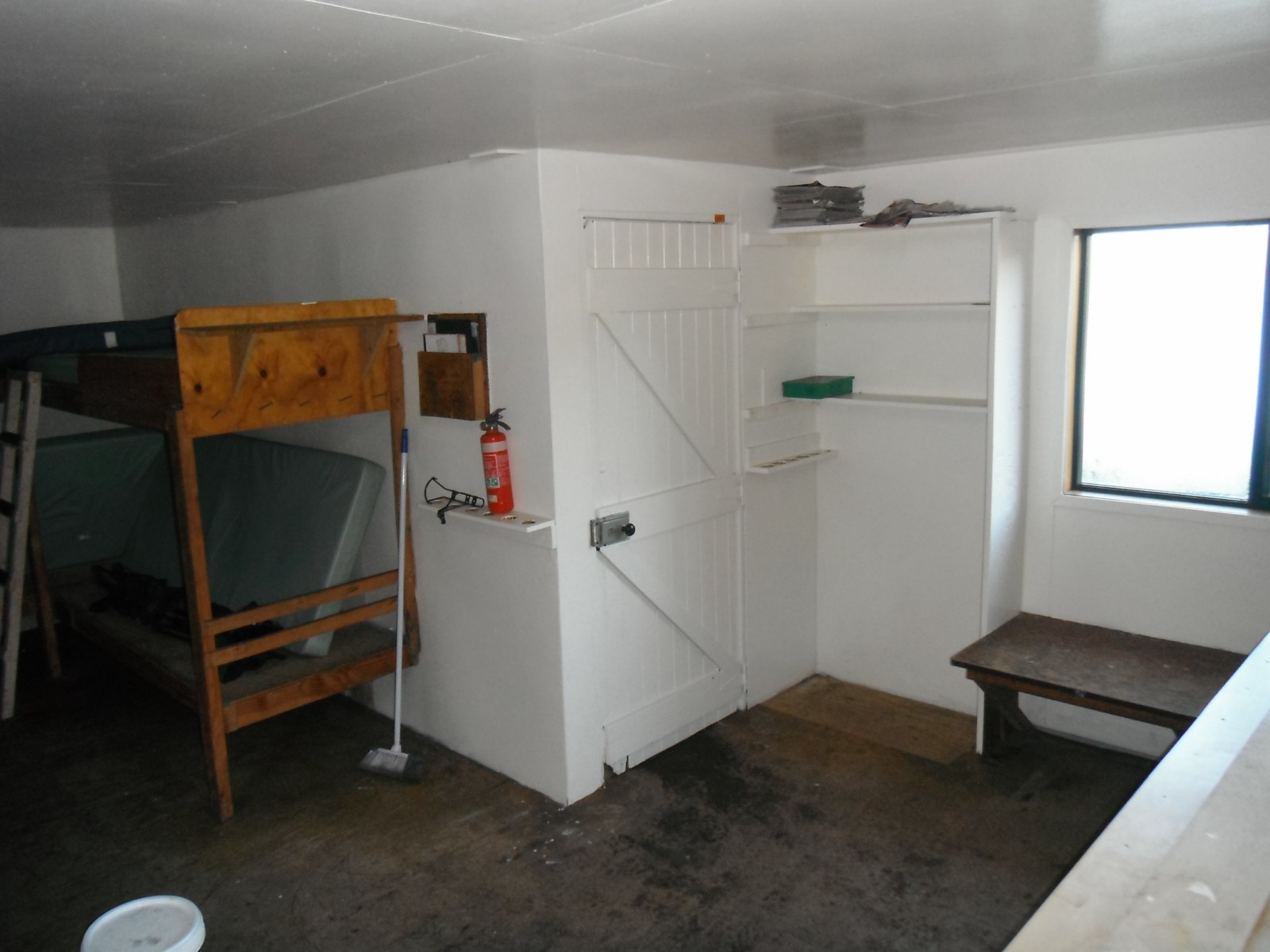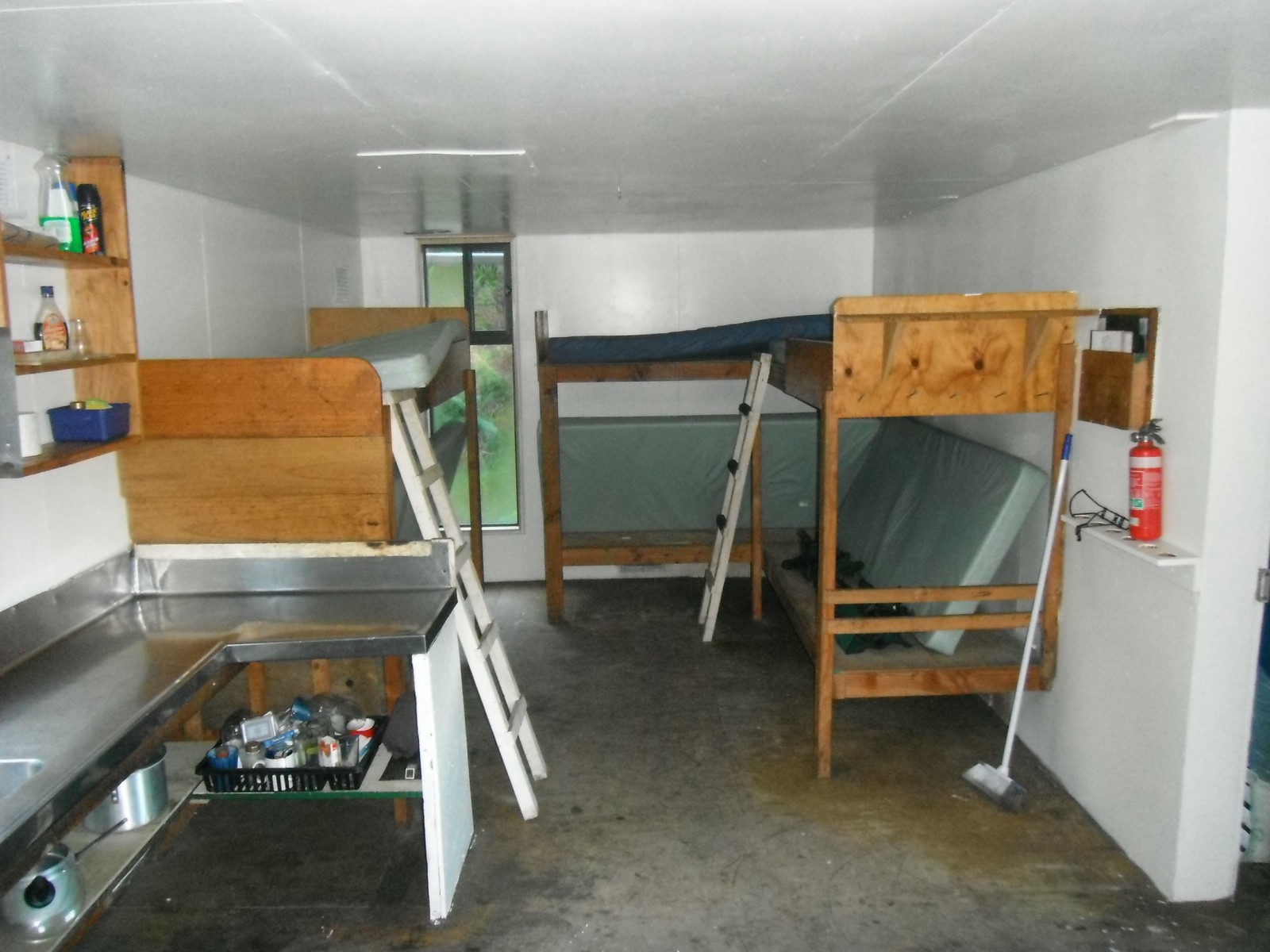 In 2015 a major renovation took place on the inside and the hut was reclad.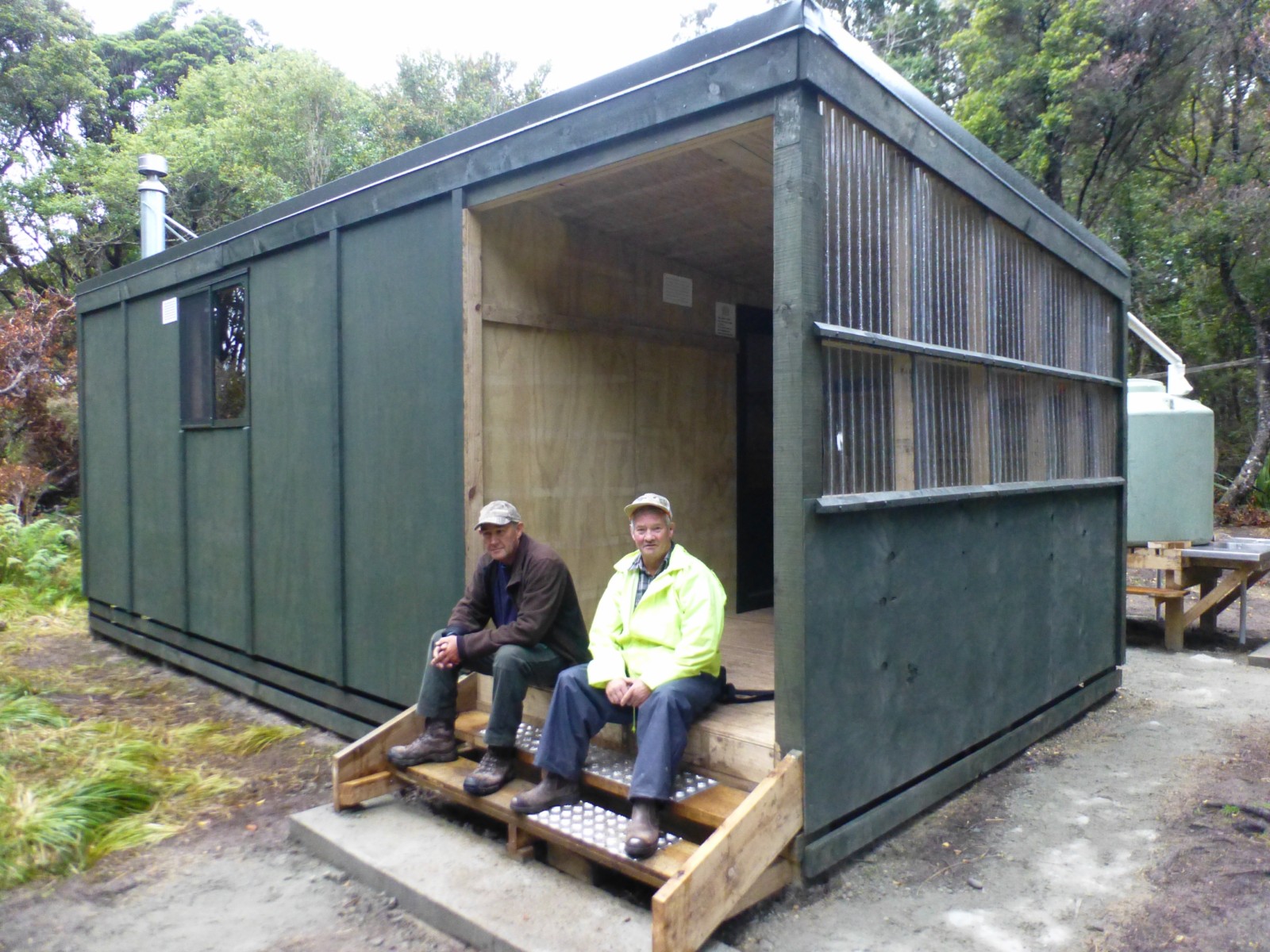 Smoky
Built in February 2015 this hut replaced a series of improvised bivvies at the site.  Builders:-  Mark Casserly, Ray Phillips, Hacky Sims, Mike & John DeLury.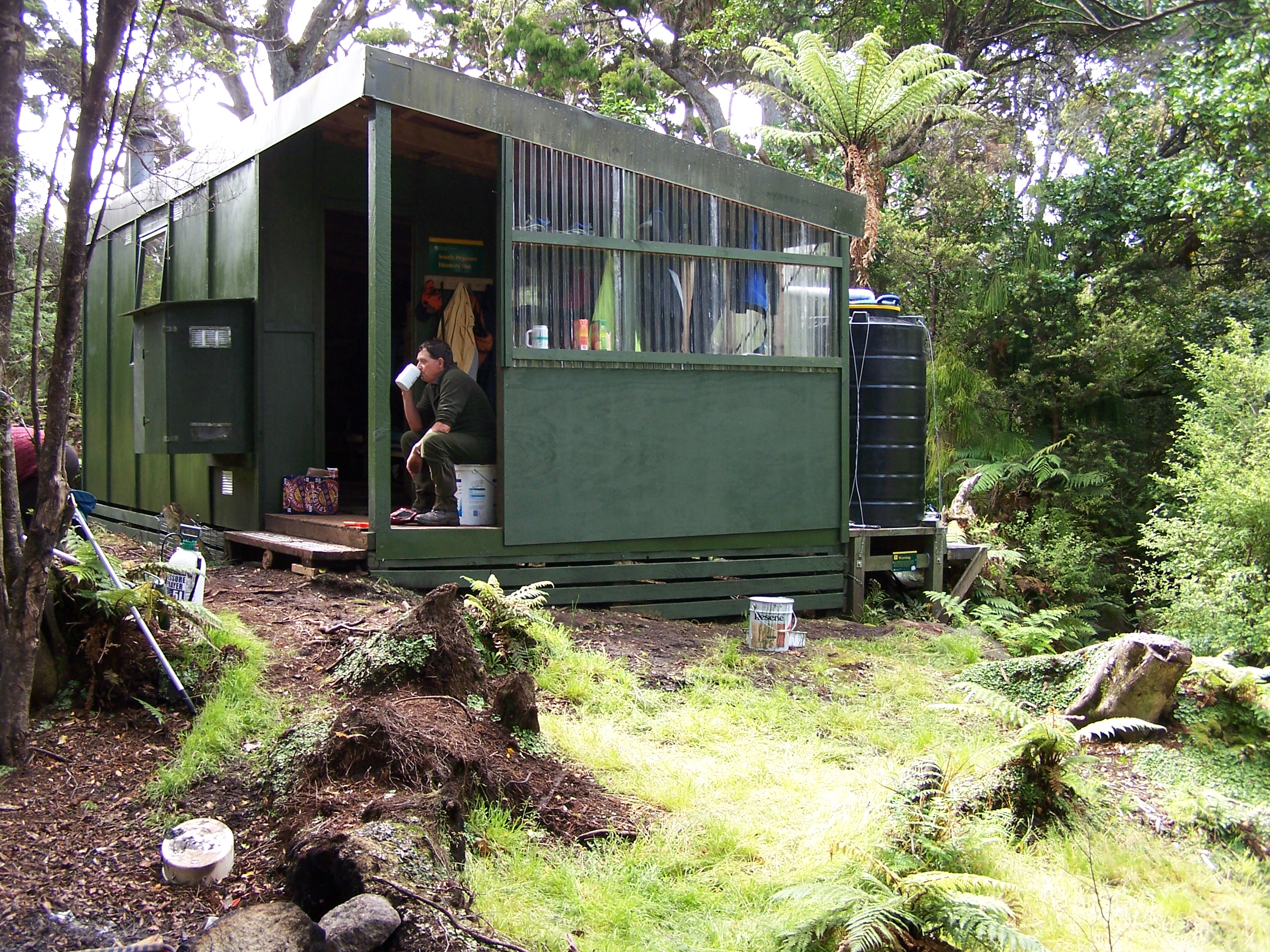 South Pegasus 
This hut was constructed in December 2000 by members of the Stewart Island Lions Club after being precut and organised by the Hunter Hut Trust. Funded by DOC.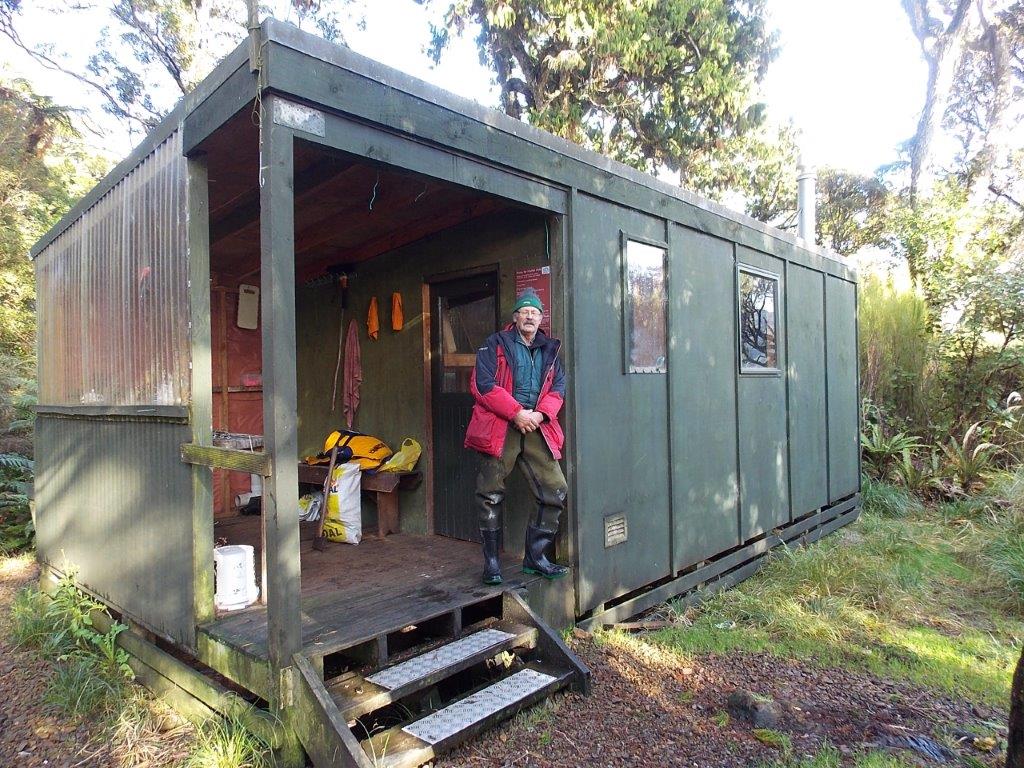 Southwest Arm 
Construction took place in February 2004.  Builders from Southland Btanch NZDA were  Ray Phillips, Euan  & Alex Butters, David Brown,  Mike Dillon,  Noel Ryan,  John Scobie &  Roger McNaughton.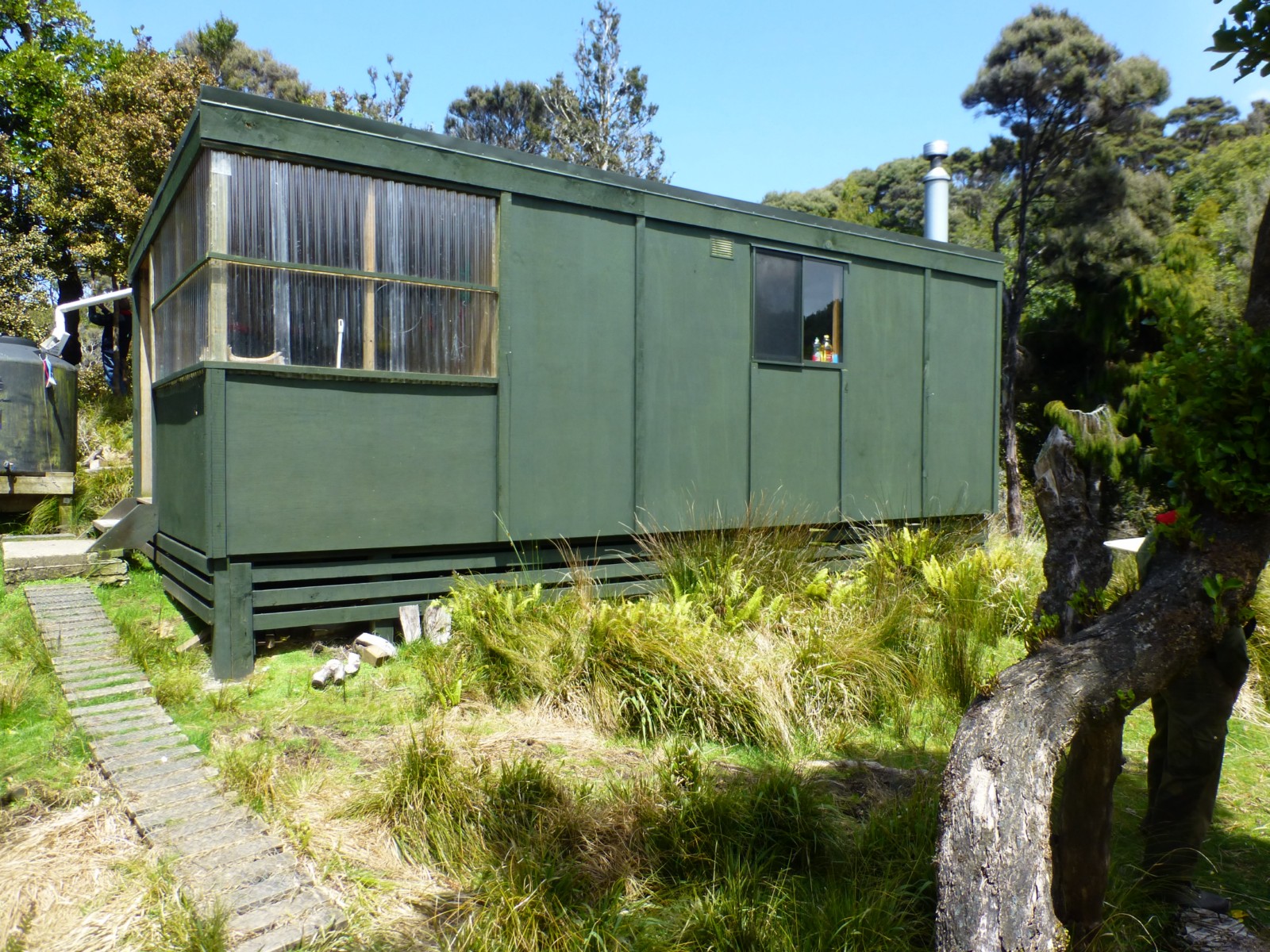 Upper Lords
October 2011.  New Hut built on the Upper Lords River Block.   This hut is located on the true right about 300 metres downstream from the falls.  The total cost of building this hut was $36,574 partly due to the large amount of helicopter time involved in ferrying material to the site.  Builders:-  John DeLury, Kerry Butson, Nigel Hodge, Neville Miller,  Southland Branch NZDA Hacky Sims and Mike DeLury from West Coast Branch.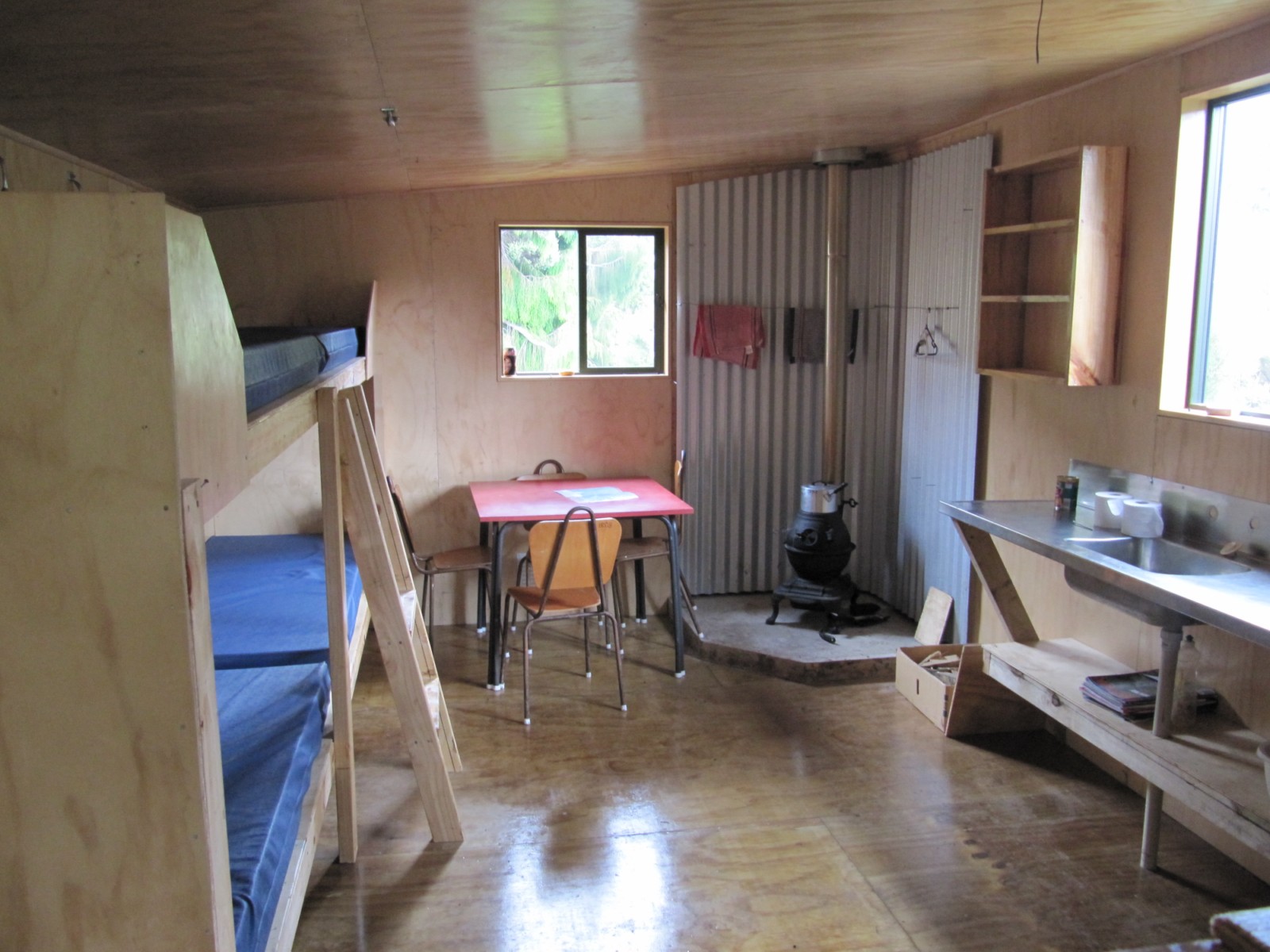 Interior Upper Lords River hut.
Little Hellfire
November 2018 saw the final hut on the program constructed at Little Hellfire to replace the ramshakle bivvy that had been there for years and this will make a huge diffence to access which can be difficult. The building crew was Ray Phillips, Kerry Butson, Nigel Hodge, Dale Chittenden, Mike & John DeLury.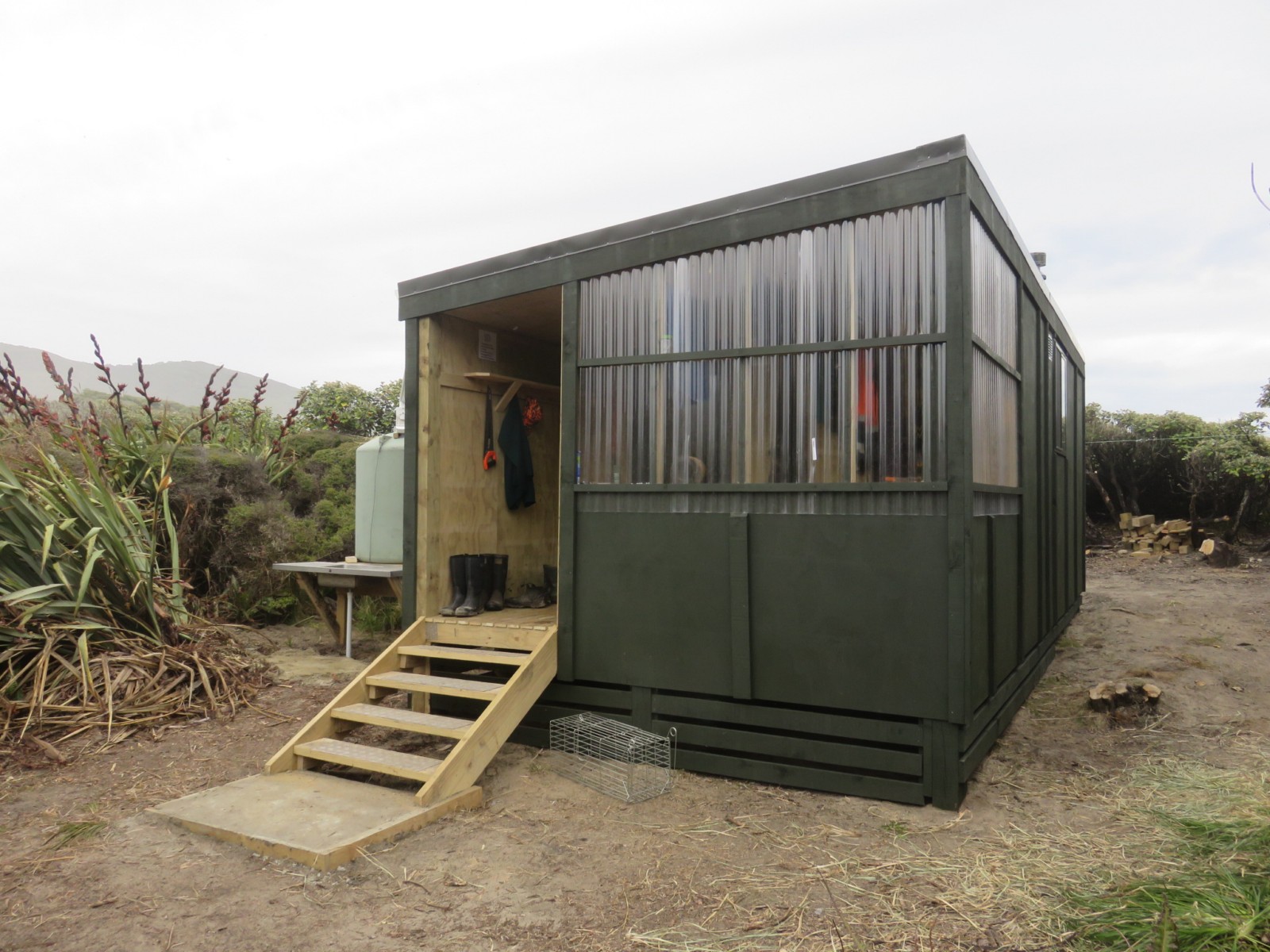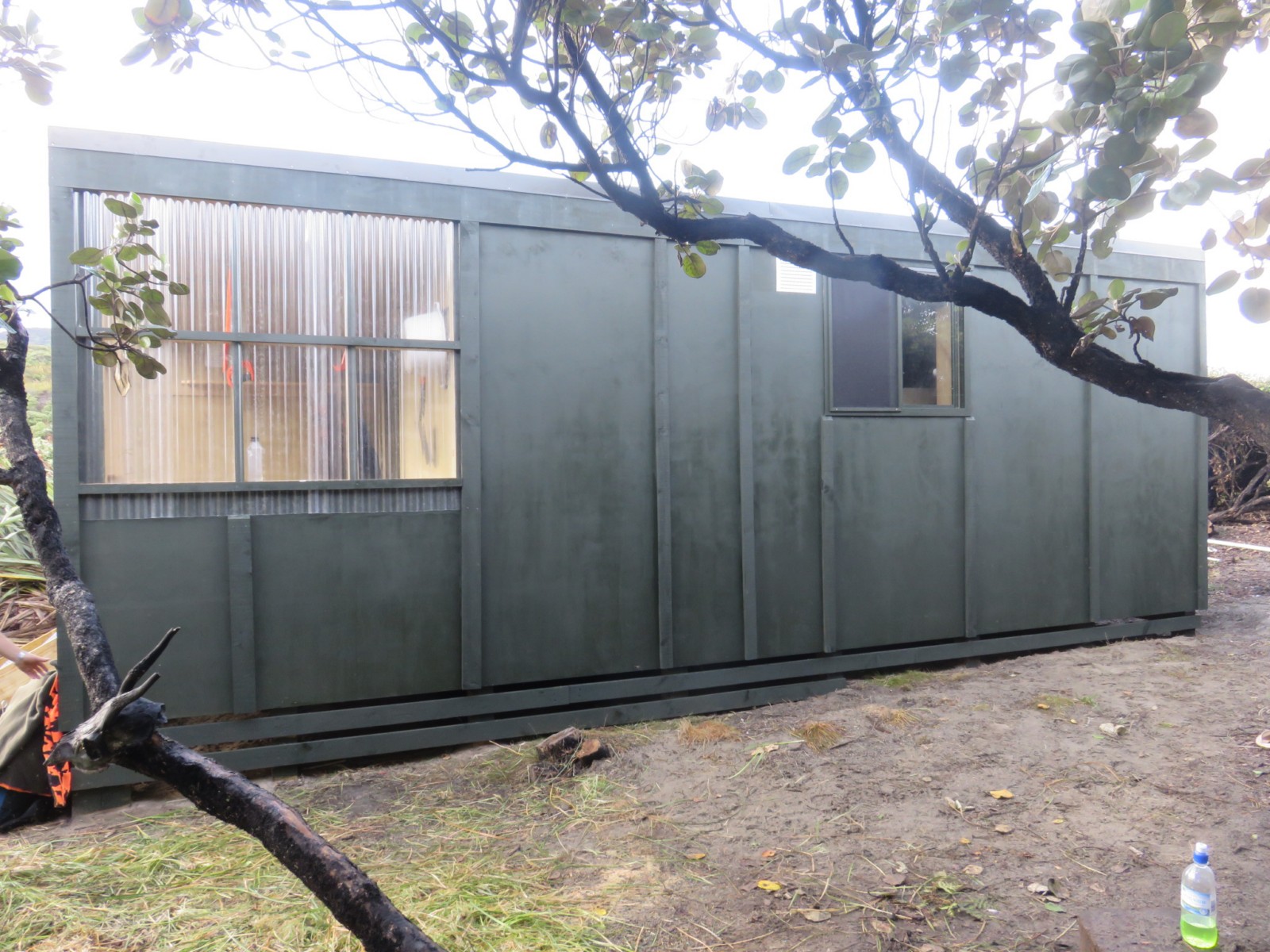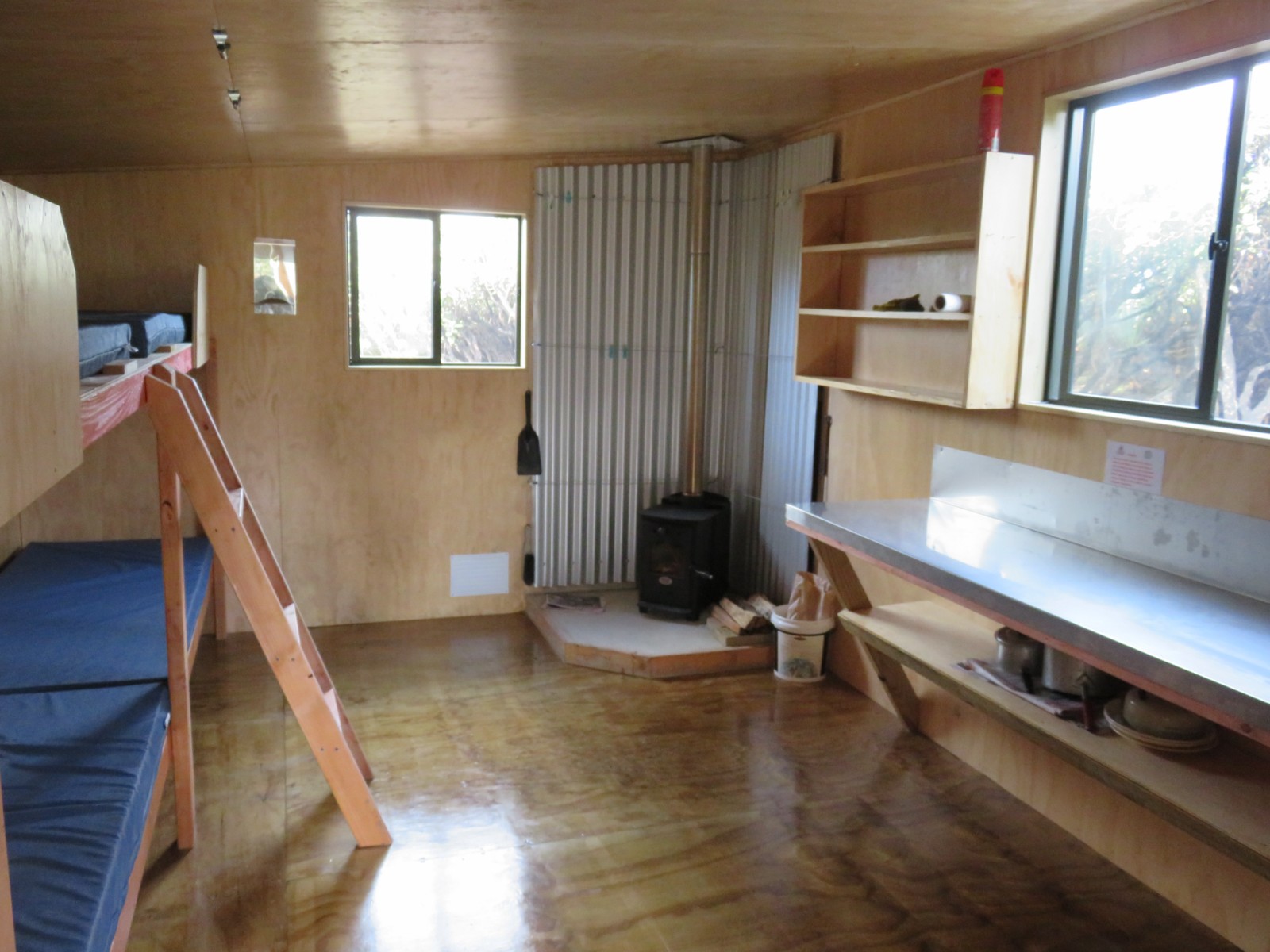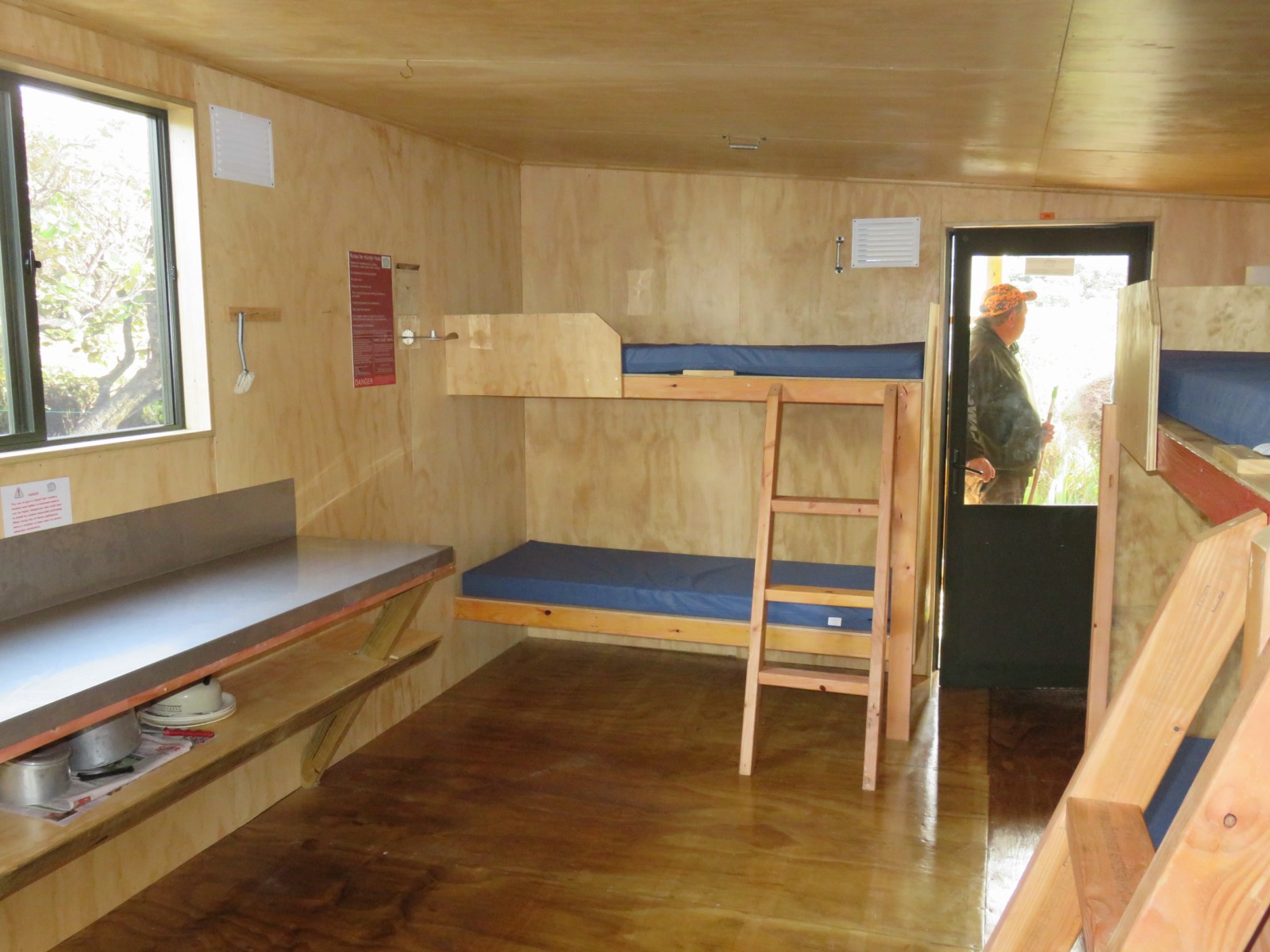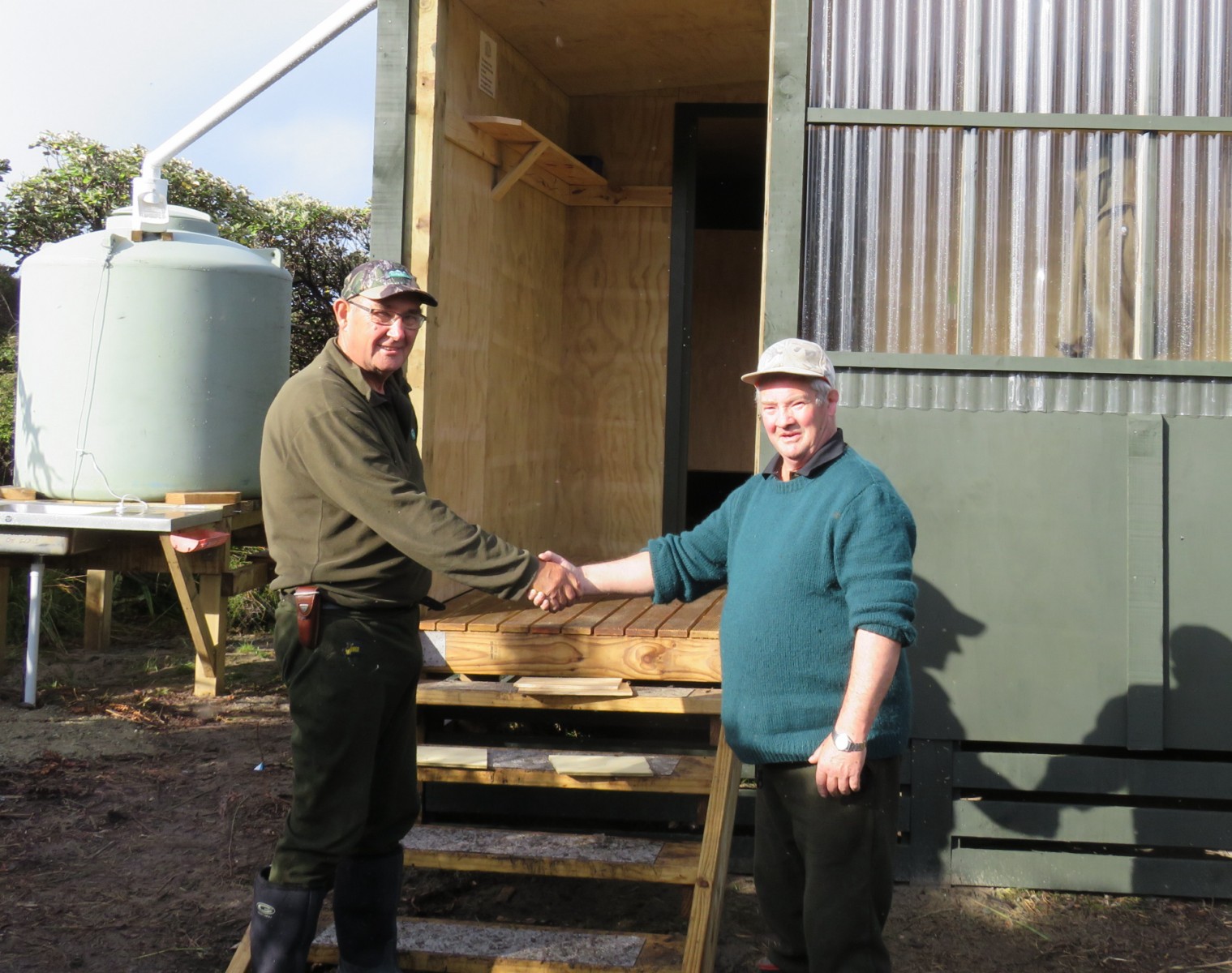 Job Done.  Trust Chairman John DeLury & Secretary/treasurer Ray Phillips outside Little Hellfire hunters hut. Both hunters have been there since the very first meeting 19 years ago.  In that time  we have constructed sixteen huts on conservation land  largely paid for by hunters and another six huts on Maori land. 
We would like to acknowldge this this project would not have been possible without our wives in the background especially Ray's wife Karene who has done a heap of work and still found time to make morning and afternoon teas.
Rakiura Maori Land blocks
Between November 2004 - October 2006 the Hunter Camp Trust built 5 huts on blocks owned by Rakiura Maori Land at South Tikotatahi, Little Kuri, Big Kuri, North Lords & South Lords.  These huts are the same configeration as those built on conservation land.  Southland Branch members completed the building and were assisted at North Lords by West Coast Branch.   All labour has been voluntary.  The issues of rubbish and site degradation are the same for hunters, regardless of who owns the land.  All building costs of the five huts on Maori Land have been paid for by Rakiura Maori Land Trust.  No Hunter Camp Trust money has been spent of Maori Land huts.
Funding  
A levy of $30 per hunter is required to be paid when booking a
 hunting block with a Trust hut.  This money is collected by DOC and paid directly to the Hunter Camp Trust.   All hut levy fees are put towards huts and maintenance.
With changes to the building code and price increases the current cost of new hut and toilet has increased from about $9000 in 2000  to in excess of $34,000 in 2015.
This figure does not include transport or the 450 hours voluntary labour, which goes into building each hut.
Everyone wins with this project.  It is about hunters doing something positive for their sport.

The transport operator's benefit with hunters taking less gear to build shelters making landing's safer.

Hunters win by not having to build and dismantle a cooking shelter.   This allows an extra day hunting time.  A small potbelly stove allows good drying and we are noticing hunters are taking bags of coal and precut wood to huts.  The Trust encourages hunters to take their own firewood to huts.

Conservation wins by less site degradation and rubbish.   More hunting time also means more dead deer.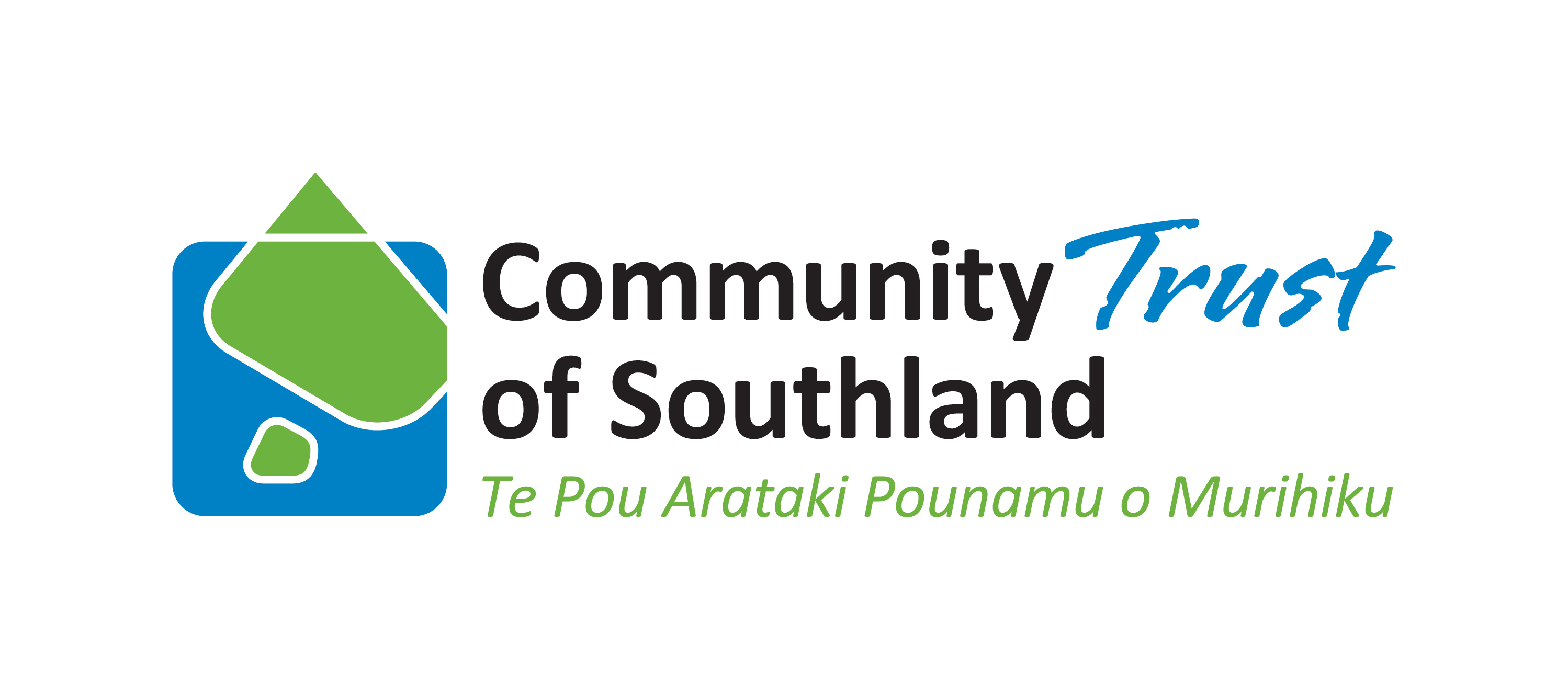 Rat/Cat/Possum Control
The Hunter Camp Trust supplies possum/cat cages at each hut and spends more than $1000 per year providing poison blocks to huts to control rats.
We have replaced the single Rat Bait Station rat with a white Bait station designed to hold four rat poison blocks which will provide a longer rat killing opportunity.   At most huts the bait stations are fixed in the verandas.   There is usually spare poison in icecream containers. Hunters can help by keeping the bait station stocked with poison blocks and notifying the Trust when the last poison block is used.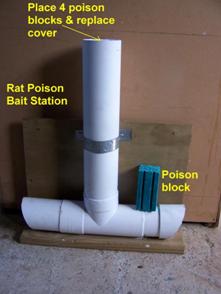 Recognition:
In August 2004 the Rakiura Hunter Camp Charitable Trust, won the Services to Conservation with Communities Award at the 2004 Department of Conservation, Conservation Awards.   The award was a recognition of a lot of hard work by many different people.  It was really collaboration between DOC and hunters. 
This project has only been successful because of the complete buy in by hunters, many of whom have done upgrade and maintenance work on huts on behalf of the Trust. 
In February 2013 12 members of Southland Branch NZDA in conjunction with the Trust & DoC installed Norski toilets at the hunter camp sites at South Big Glory, Murray River, Lucky, Smoky, West Ruggedy & Little Hellfire.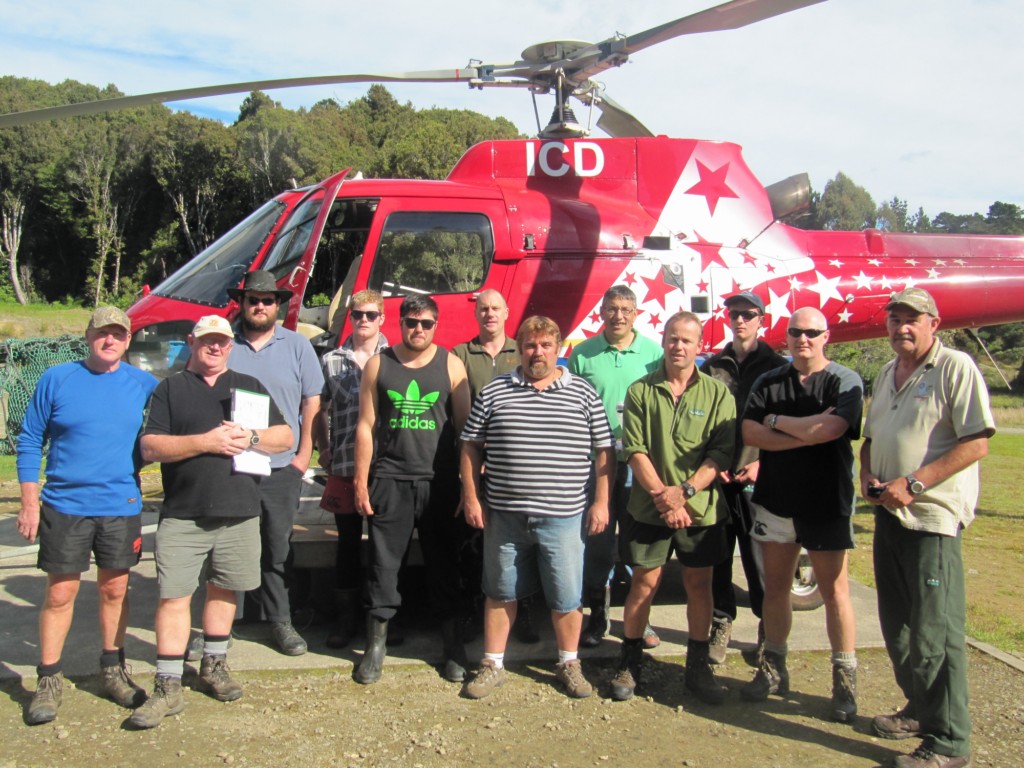 Toilet detail ready to go to work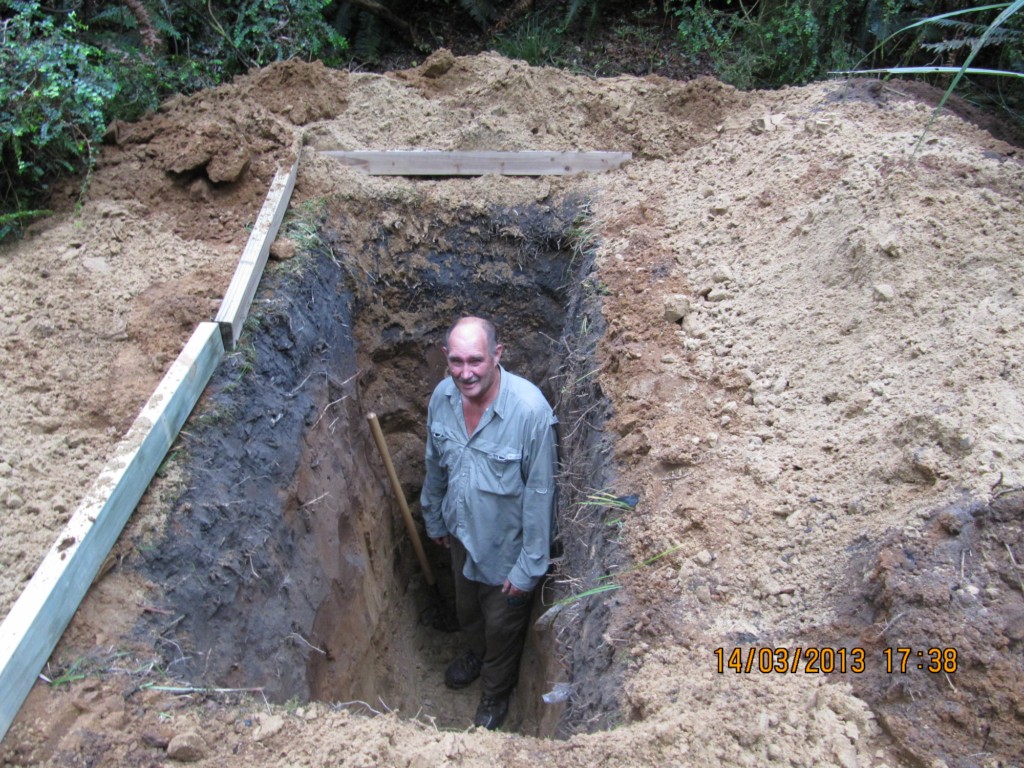 2.1 x 1800 x 900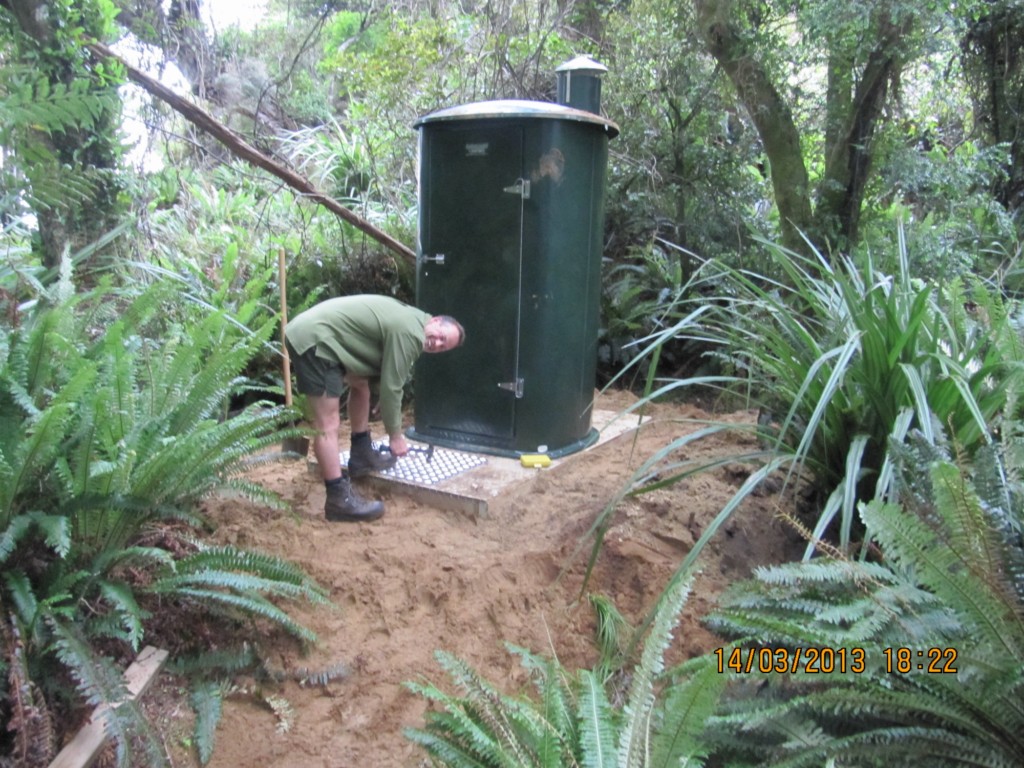 A big thanks to Real Journeys for assitance with travel for our builders at Murray River

And to Rakiura Shipping for transport of hut materials. 
The Trust currently maintains seventeen huts around various blocks on Stewart Island. South Pegasus, North Pegasus, Upper Lords, North Tikotatahi, Kellys, Bosom, Little Glory, North Glory, Hupuatuna, Abrahams, Southwest Arm, Murray River, Christmas Village, Smoky, Homestead, Martins Creek, & Cavalier. This leaves a good mix of blocks with tramping huts at Bungaree, Yankee, Long Harry, East Ruggeday, Big Hellfire Doughboy, Rakeahua, Freds Camp, Freshwater and North Arm.  Blocks with toilet facility only are Maori Beach, Lucky, West Ruggedy and South Glory & Little Hellfire. Blocks with no facilites are Mid Glory, Rollers and Waituna.
You can help the Trust by:
Removal of any rubbish you find at the site.

Do not leave any food in the huts as it encourages rats.

 Ensuring rat bait is in the bait station.  Notifying us when all used.

Take your own firewood.

Do not cut down any trees.

Report any problems direct to us preferably with photographs &/or diagram & measurements.

Treat the hut as if it were your own.
We can be contacted at
This email address is being protected from spambots. You need JavaScript enabled to view it.
Phone  John 0276925338  Ray 03 2163751 
John DeLury
Chairman
---
A list of camps via Google Earth: